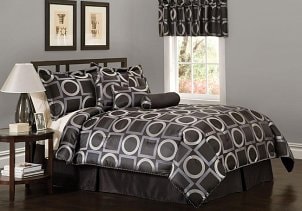 When you think of discount comforters, style may not be the first thing that comes to mind, but it should be. Many assume that design has to be sacrificed when looking for bargains, but it's actually quite easy to find stylish discount comforters that fit your budget and your decorating style. With a bit of thought and a good eye, getting a chic comforter set at a discount price can be a breeze. If you're hoping to fill your bedroom with style without emptying your wallet, take a look at the article below to learn how to pick stylish discount comforters.
Picking Stylish Discount Comforters:

Determine size: Discount comforters are available for all bed sizes, so the first step you should take in finding the right one for you should be determining your bed size. Finding a fashionable discount comforter for a twin bed may be exciting, but it will be less of a thrill to try to make it look good on a full-size bed. Popular comforter sizes are twin, twin XL, full, queen, king and California king. To avoid disappointment and frustration, figure out how big your bed is before you begin looking.

Focus on material: Just because you like the look of a discount comforter doesn't mean it will be the right one for your climate. Before setting your heart on any particular discount comforter set, decide on what type of fabric you need yours to be made of. If you want something soft and warm, think about a discount down comforter. Those with allergies might consider down-alternative comforters or cotton comforters.

Coordinate: The key to finding a stylish comforter for your bed is to consider where it will end up. Take a look at the bedroom you want to outfit with a discount comforter and take the overall design scheme into account. Think about paint color, furniture style and lighting. Knowing what sort of discount comforter will work best will help you cut through the enormous amount of bedding available. You'll be able to find a comforter that's stylish, unique and appropriate for its new home.

Buy Discount Comforters
Back to Guides Directory