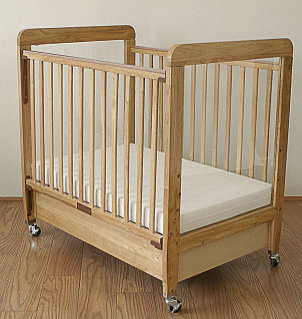 Your baby will spend most of his first year of life sleeping, which means a crib and a baby mattress are some of the most important baby furniture purchases you will make as a new parent. It is important to choose a crib mattress that will hold up for years of use as well as be safe for baby. As with other types of baby furniture, quality, safety and durability are the main factors to keep in mind when you're shopping for a crib mattress.
Choosing a Baby Mattress:

Choose a firm mattress. A firm mattress is the safest choice for infants and toddlers. A very soft mattress can pose smothering risks to babies. Coil, inner-spring and latex are great baby mattress types. Memory foam can also be good for babies as long as the mattress is made especially for infants and has a high level of firmness.

Select a mattress that fits your baby's crib. When shopping for a crib mattress, it is important to get one that will fit perfectly in your child's crib. To prevent your baby from getting stuck in the crevices, there should be virtually no space between the edge of the mattress and the wall of the crib. Measuring your crib before shopping will help to make sure you get a mattress that is a perfect fit.

Look for a mattress with a quality cover. Mattresses with sturdy covers will be the most durable, and many of them will also be waterproof. You can also add a mattress pad that is waterproof to protect your baby's mattress and keep it in good condition.

Be informed. Look for a crib mattress that freely advertises information about what materials are used in the mattress. If a company is slim on consumer information, it is best not to be quick to trust them. You should expect to be completely informed when buying a mattress in order to get one that will be safe for your child. Quality manufacturers will gladly list the mattress components.

Buy Baby Mattresses
Back to Guides Directory