by C.M. Mackenzie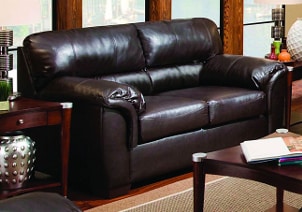 Cozy living room furniture can turn an otherwise bare or unwelcoming room into a haven for relaxation and good conversation. Color, texture and design all play a part in the furniture's impact on a space. Pick cozy living room furniture according to your personal style and the existing decor in your home. Some guidelines you can follow, however, are to pick furniture pieces with clean, soft lines and warm colors. You can also add to your living room's coziness by using soft lighting.
Picking Cozy Furniture:

Choose sofas and chairs with both comfort and style in mind. The seating area is usually the focal point of a welcoming living room. Choose these pieces and arrange them in the room before other items. For the coziest feel, pick warm colors, such as brown, black and shades of red, and neutral designs; think of classic styles in patterns that aren't too busy. Examples include dark leather sofas and microfiber chairs in shades of brown or burgundy.

Pick coffee tables and end tables in matching wood colors. Make certain the wood -- whether it is mahogany, cherry or another rich, natural wood -- does not clash with the color of the sofa and chairs. It's fine to pick tables that are slightly darker or lighter than neighboring furniture; however, much of this choice is a matter of personal taste.

Select lamps with adjustable light settings. When you are enjoying your comfortable living space alone, you may want brighter light for reading. When you are entertaining or relaxing, you may want more subdued lighting. Bulbs for lamps should give off warm light that is easy on the eyes.

Accentuate cozy living room furniture with throw pillows and throw rugs. Throw rugs lend warmth and are especially important if floors are uncarpeted. Use carpet pads beneath throw rugs to muffle sound and keep the rugs from sliding. A few pretty throw pillows, green house plants and stylish artwork (vases, paintings or statuary, for example) placed around your living room can add a touch of class to your home.
Cozy Furniture Tip:

Natural, soft fabrics or leather are usually coziest. Save stiffer fabric upholstery for formal dining rooms and similar areas of the home.

Buy Living Room Furniture
Back to Guides Directory