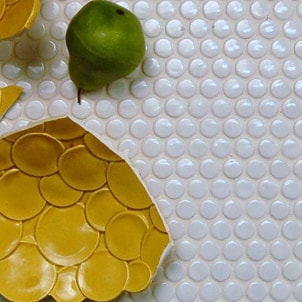 More so than some other floors in your home, bathroom flooring must be both beautiful and practical. In terms of aesthetics, it can set the stage for the design of the rest of the bathroom and affects the look of a space that you see often. In fact, many people like to be creative with bathroom flooring because bathrooms are a more private and smaller space than the rest of the house. In terms of practicality, bathroom flooring affects the way your bathroom functions and must meet the demands you place on it. Bathroom floors can be surfaced with a variety of different materials, from classic tile flooring to vinyl flooring; whichever type of bathroom flooring you choose, be sure it is moisture-proof and slip-proof and that you find it comfortable and stylish.
Picking Bathroom Flooring:

Determine your budget. This will allow you to narrow down the types of flooring to those styles that are within your price range only. The most expensive options will be marble tiles or travertine tiles. These tiles are both cut from stone and fetch premium prices. Ceramic tiles come in a variety of colors and finishes. While usually not cheap, bathroom tile flooring ranges considerably in price, and it's possible to install bathroom tiles on a budget. If you really want to save money, the least expensive flooring for bathrooms is vinyl flooring. It may not have quite the same look as tile, but vinyl flooring is both durable and attractive.

Consider how long you are going to be in your home. If you are planning on staying for a long time, you might think about spending a little bit more on your bathroom floor so that you can enjoy it for years to come. Alternatively, if you are planning on selling in a short while, choose a flooring material that will appeal to buyers but won't break your budget. However, keep in mind that bathroom tile flooring can actually raise the value of your home, so it can be an investment.

Decide what the most important thing is about your floor. Do you want an elegant and exciting design? Consider ceramic tiles in alternating patterns or even marble. Laminate flooring is also an option; it's durable and comes in a wide variety of designs; however, it can be very slippery when wet, so choosing a laminate that has some texture is a smart idea for a bathroom. If the bathroom will be for children, you will want something that is not slippery, is durable and is easy to clean, such as vinyl flooring.

Think practically. While carpeted bathrooms may be warmer than cold tiles, they are not waterproof. Moisture can seep through carpet and allow bacteria to grow. The same holds true for wood floors. Wood floors aren't quite as risky a bathroom flooring idea as carpet and can actually work just fine in bathrooms without showers or tubs, but the wood needs to be well waterproofed if you want to put it in a regular bathroom.

Buy Flooring
Back to Guides Directory