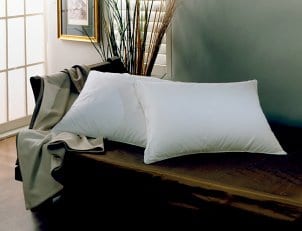 Even if you have a top-of-the-line mattress and an 800 thread count sheet set, your bed is not likely to be comfortable without the right pillow tucked under your cheek. Nothing ruins a good night's sleep like a bad pillow. Unfortunately, it's easy to underestimate the value of a good pillow. Not only do good pillows add aesthetic value to your bed, but they can also be the difference between a restful night or an aching back and neck. Pillows come in different shapes, sizes and firmness. Take a look below to learn how to pick a pillow.
Picking a Pillow:

Evaluate your sleep habits. Do you like to prop yourself up on a pile of firm pillows while you sleep? Maybe you prefer to sleep on your side, with a plump pillow snuggled between your arms. If you like to sleep on your back, a flat pillow is probably what you would prefer.

Determine your budget. The price of pillows can vary widely, so decide how much you're willing to spend before you begin your hunt. Specialty pillows, like those filled with Siberian down or buckwheat hulls, can be more expensive. You can find down pillows in a varity of price ranges.

Think about the size of your bed. Generally, the larger the bed, the larger the pillows you will want to buy. If you're going for a luxurious look, purchase some large pillows for a small bed. Some people prefer a lot of smaller pillows rather than a few large ones, however. Two king-size pillows will cover the top of a king-size bed, but you could also use one king-size pillow in a twin bed, if you like.

Consider your health. Firm pillows will support your head and neck and are usually recommended for people with back problems. Softer pillows don't offer as much support but are generally more comfortable.

Decide on your favorite filling. Many people love the feel of real down pillows, but others are allergic to them. Goose-down pillows are an expensive alternative but can still present allergy problems unless you splurge for a hypoallergenic brand. Most middle-of-the-ground pillows are made with polyester filling. The least expensive pillows are made with foam or poly-fill.

Buy Pillows
Back to Guides Directory