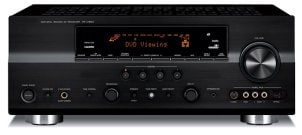 The receiver is the central component of any home theater system. When you're putting together the home theater of your dreams, you will want to take the time to pick a receiver that both fits your budget and also has the capabilities you're looking for. This may mean looking for specific features or a particular type of connection. Plenty of home theater receivers are out there to choose from, and when you find a great one for your home theater system, you'll be ready to enjoy that immersive home theater experience any time you want it.
Choosing Your Receiver:

When you're picking a home theater receiver to use with an existing television and other audio or video equipment, you'll want to make sure that the receiver has the connections you need to connect all of the other devices. For basic stereo audio, this normally means the receiver has a pair of RCA connectors for each device you want to connect. If you want the receiver to act as a surround sound decoder, then you may need either a digital coaxial connection or an optical connection.





If you plan to use high-definition throughout your home theater, then you can just use an HDMI cable to connect each device to the receiver and the receiver to your television. HDMI cables carry both the audio and the video signals over a single cable.

In addition to connecting the various devices together, the receiver also sends the audio signal to the speakers. If you have some speakers in mind to use with your receiver, then you'll need to make sure that the wattage handling and ohm rating of the speakers matches what the receiver can output.





Also, make sure that the receiver can send audio to as many speakers as you want to use. For example, if you want to use 5.1 surround sound, you'll want the home theater receiver to have the speaker outputs for five speakers plus a subwoofer. Fortunately, this is quite standard on any receiver that supports surround sound.

When you use surround sound, you need to have a device called a decoder that can take the encoded audio signal from a DVD or Blu-ray disc and convert it to standard audio. It's quite common for home theater receivers to be able to act as the decoder for one or more surround sound formats. Some DVD or Blu-ray players may be able to act as the decoder; however, if your equipment does not decode any of the surround sound formats, you'll need an external decoder. You'll also need to make sure that your receiver has the necessary connections for connecting to an external decoder.

You may want to consider some of the audio specifications of the receiver, although much of this information will mean little to the average shopper. As a few guidelines, remember that you want a high signal-to-noise ratio (SNR) and a low total harmonic distortion (THD) rating; you also want the frequency range to be as wide as your speakers can handle.

Once you've considered the connections and capabilities that you need from your receiver, you can also look for additional features. For example, it's becoming increasingly common for a receiver to include a wireless networking adapter so that it can access the music files on your computer. A receiver might also include things like a high-definition radio receiver that you may be interested in. Features like these can really help you get the most from your receiver.
Warning:

To protect your electrical equipment from power surges, always plug your receiver and other home theater components into a surge protector. If you've ever had equipment irreparably damaged with a power surge or other electrical event, then the decision to use surge protection should be a no-brainer. If you've never had any equipment damaged by a power surge, you probably have your surge protectors to thank for it!

Buy Receivers
Back to Guides Directory