by L. Sefcik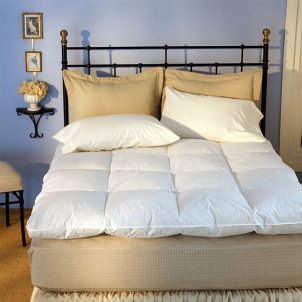 If you're looking for bedding that's delightfully old-fashioned and distinctly old-world, consider featherbeds. Ask anyone who's experienced the comfort of a down featherbed, and they'll tell you that it's like falling asleep in a cloud. Featherbeds also provide extra warmth on chilly nights and nippy mornings. Before you pick a featherbed, there are a few things you need to keep in mind. Look below to learn how to pick a featherbed.
Picking a Featherbed:

Pick one that fits. Choose a featherbed that fits your bed. Featherbeds are mattress toppers, after all. Like sheets, comforters and bedspreads, featherbeds are sized to fit single (twin), double (full), queen, king and California king beds. If you're not sure about the size of your mattress, measure it before you pick a featherbed. If you have an off-size mattress that falls somewhere between standard mattress dimensions, pick bedding that provides total coverage for your bed, even if you must go one size up.

Think baffles and gussets. Pick a featherbed with baffles or select one with both baffles and gussets. Baffles are stitched squares that keep the down from shifting disproportionately from one part of your featherbed to the other. Gusseting is uniform stitching that runs parallel to your featherbed's four borders; gusseted bedding provides more loft when placed on your mattress.

Buy a cover. Make sure to buy a cover for your featherbed. Just as a mattress cover is a requisite part of your bedding, a cover is a must-have for your new featherbed to protect it from stains, spills and other soiling. Although featherbeds can be spot-cleaned, a thorough cleaning involves a trip to the dry cleaner. Featherbed covers are made of washable cotton and when used appropriately, will extend the life of your featherbed.

Thread count. Pick a featherbed with the highest thread count to make the best of your investment. A high thread count means that your featherbed's cotton covering, also known as ticking, is tightly woven. Small pieces of down are less likely to escape through fabric with a tighter weave.

Buy Featherbeds
Back to Guides Directory