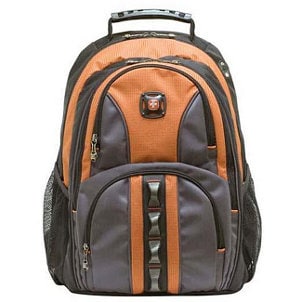 Life is hard enough without losing the ability to express yourself. Just because you have to haul books, papers, laptops, presentations and more, there's no reason not to make your canvas backpack your own. Learn how to personalize your canvas backpack and you can show the world who you are no matter where you and your backpack go.
Personalize Your Backpack:

Identify where you'll use your backpack. Do you use your backpack for school? Work? Travel? Carrying a canvas backpack on a college campus allows you the most freedom of expression in terms of what you can put on your bag. If you're planning to check your bag at an airport, you want to make sure it's unique but not decorated with items that will catch on a conveyor belt or attract the eye of airport security.

Decide what message you want to send. Do you want your backpack to be fun? Funny? Colorful? Soulful? Or do you need it to be just unique enough that you can spot it on a luggage carousel? Decide what you want to say before you get started; if you have a plan in the beginning, the end result will be that much better.

Decide how permanent you want your message to be. If you've had the same friends for 13 years and you intend to keep them, then you might be comfortable committing to a single look for the life of your backpack. If you change moods as often as you change socks, then consider personalizing your backpack with something less permanent, like pins or zipper pulls.

Choose a background color. If your backpack is already a color you like, then go ahead and start decorating! If you're reworking an old backpack, you can dye it any color you want. If you decide to dye your backpack, make sure it's dry before you start adding embellishments.

Start decorating. You can personalize your backpack with sequins, patches, pins, paint, markers and more. Use permanent markers to write song lyrics or have your friends sign your bag for an allover readable design. Create unique zipper pulls by folding duct tape back on itself and cutting out shapes, then punch a hole in the top and tie it to your zipper. Consider hanging key chains from your backpack for a three-dimensional look or sewing on some beads; just make sure you string them on sturdy thread or fishing line. If your purpose is easy identification of your backpack in a crowd, then tie a colorful pompom to the strap or spell out your name in masking tape on the back.

The finishing touch. If you're traveling with your backpack, or even just taking it to school, you might want to consider a small lock. You can get padlocks and key locks small enough to fit through the holes on zipper pulls. Remember to choose a TSA approved lock if you'll be going through airport security. Keep in mind that key locks are considered more secure than padlocks.
Tip:

Check with your school before you go crazy on your bag. Some schools might have restrictions about what embellishments are allowed.

Buy Canvas Backpacks
Back to Guides Directory