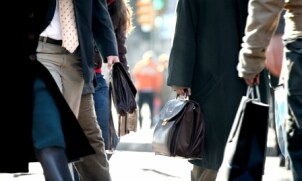 Things You Need:
Pins and buttons
Patches
Fabric marker
Your computer is personal, so why shouldn't computer briefcases be personal, too? Laptop cases are meant to protect your computer, but that doesn't mean they have to be boring. In fact, personalizing your computer briefcase can actually increase its security in addition to its style. Like your computer, your laptop case should be customized for you. Fortunately, making your laptop case uniquely you is easy. Keep reading to learn how to personalize your computer briefcase and other laptop bags.
Personalizing Your Briefcase:

Add extra security. One of the smartest ways to keep your laptop case safe is to tag it with your personal information. Losing your laptop is easier than you think: You're on the go; your mind is running in a thousand different directions; and all of a sudden, you realize your laptop bag is gone. Increase the chances of getting it back by marking your laptop case with your name, phone number and e-mail address. Many laptop cases provide space for you to write such information, but if yours doesn't, simply find a blank space and write on it with a fabric marker. You can also purchase luggage tags, fill in your contact information and secure the tag to the handle of your leather laptop briefcase.

Amp up the fun. Your laptop case doesn't have to be strictly business. It should reflect your personal tastes and style. One easy way to personalize your laptop briefcase is to decorate it with pins and buttons. Find buttons with chic art, band names, phrases and political statements; a laptop case is the perfect place to display your favorite things, people and slogans. Add a bunch of buttons or a simple few; either way, your laptop bag will benefit in regards to style.

Download a patch. For some extra style, find some fashionable patches to add to your laptop briefcase. Patches are similar to buttons and pins in that they're made in all kinds of styles, shapes and themes, but they're less obtrusive. If you're not a sewer, look for iron-on patches. If you have a leather laptop briefcase, attaching buttons and patches will be more difficult, but you can still attach them to the thinner leather of the shoulder strap.

Buy Laptop Cases
Back to Guides Directory