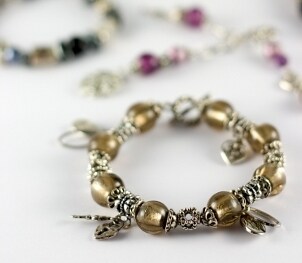 Beaded charm bracelets have risen to the top of the trendy jewelry list in just a few years. This charm bracelet style is popular for its colors, versatility and high level of personalization. Everyone wants unique jewelry and accessories that showcase their interests and personality. Beaded charm bracelets answer the call with a variety of brightly colored beads and luxurious charms to choose from. Start with a simple rope chain bracelet and collect the beads and charms that draw attention to your unique style.
Beaded Charm Bracelets:

Carefully select beads: Many of the beads available for charm jewelry are handmade to give your bracelet a lot of individuality. Green, gold and yellow beads look great together; these colors are neutral, but eye-catching. For a bolder piece of beaded jewelry, choose red, black and silver beads. You can collect beads in every color and change the colors and designs of your charm bracelet whenever you like. These beaded bracelets are great for anyone who is easily bored by her jewelry collection.

Collect meaningful charms: In addition to stunning beads, you will want to add pretty charms to your beaded charm bracelet. You might choose just a few charms or you might cover the bracelet in sparkling, dangling baubles. One of the best ways to create personal beaded bracelets is to choose charms that represent meaningful times in your life. Wedding charms, baby charms and career charms are just some of the fun options for beaded jewelry. You can also use your interests to personalize charm jewelry. Look for hobby charms, travel charms and religious charms to put your personal stamp on the jewelry.

Consider spacers: Not every beaded charm bracelet must be covered in colorful beads and sparkling charms. If you like a more minimalistic look in your jewelry, then use spacers to hold beads and charms in their space while allowing the metal of the bracelet to shine through in spots. Spacers let you create a beaded charm bracelet that is entirely unique.

Buy Charm Bracelets
Back to Guides Directory