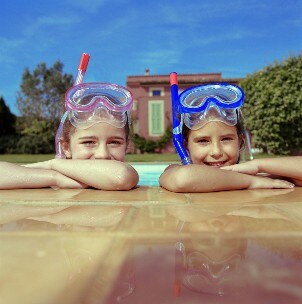 There is a lot of preparation to do before your trip, and packing kids' clothes is on the to-do list of any family vacation. You don't want to just throw clothing and shoes into a bag and go, however. Packing kids' clothing requires planning to help make your vacation a success. The following tips will help you sort through which items of children's clothing to pack and how to pack it for your next big vacation.
Kids' Vacation Clothes:

Extra basics: Kids, especially toddlers, are prone to spill drinks, have diaper accidents or find the one patch of mud in the city. The last thing you want is to be stuck away from home with messy kids' clothes and no way to get them clean. Packing a few extras of the basics, like T-shirts, bodysuits and underpants can save you the headache of trying to launder dirty children's clothing. With a few extras on hand, you can simply change your child's clothes and get back to vacationing.

Whatever the weather: When you're packing clothes for your kids, you'll want to keep unexpected changes in weather in mind. A raincoat and rain boots will keep little ones dry, and a sun hat can help prevent sunburn on a sunny afternoon. If you're headed somewhere cold, don't forget to pack children's accessories, like gloves, a snow hat and snow boots, along with a winter coat to help combat cold weather.

Packing small: When you're packing for a vacation, you want to save the most space possible, and children's clothes should be packed as small and light as possible while still including all the necessities. Sort through your kid's clothing and choose pieces that fold up easily and pack up small and light. Put together outfits for each day you'll be on vacation and pack the clothes in re-sealable plastic bags. You can squeeze the extra air out of the bags, allowing more room for packing additional kids' clothes, like coats, swimwear and shoes.

Skip whites: Kids can be messy, and vacation is no exception. Keep your child's vacation wardrobe as simple and mess-friendly as possible by packing colorful kids' clothes that won't get dingy fast, like whites tend to. Dark denim pants may be better than khaki as well. If you're concerned about your little one getting too hot in dark children's clothes, look for clothing in lightweight fabric to keep things cool.

Comfortable shoes: When you're packing children's clothing and shoes, you'll want to make sure to pack comfortable shoes for your child. While sandals are great for a beach vacation, and snow and rain boots will keep little toes warm in cool weather, you'll also want to pack comfortable kids' shoes, like sneakers, that your child can wear all day long.

Buy Children's Clothing
Back to Guides Directory