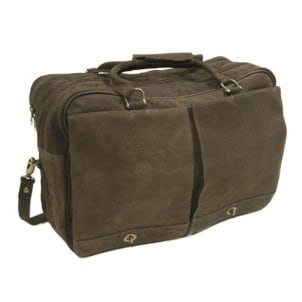 When it's time to head out of town, making the most of your luggage space is important. Packing all belongings into one bag for a short trip is possible with a few space saver tips. Over-packing is the most common error made while packing luggage. Plan outfits ahead, and leave those bulky sweaters at home if you want to pack in one bag for your next trip. Take a look below to learn how to pack in one bag.
Packing in One Bag:

Pick clothes. Select clothes and items needed for the trip. Lay the items out on the bed, alongside the bag of luggage you will use. Coordinate outfits and remove any extra clothing that isn't necessary. Make a pile of toiletries and non-clothing items.

Cut the bulk. Replace bulky clothing with sheer fabrics. Remove thick sweaters and sweatshirts from the pile. Replace them with layers of microfiber long-sleeved tops. Layer garments for added warmth.

Roll. Roll all clothing into cylinders to save space. Choose pants that coordinate with more than one outfit. Select black, denim or khaki to stay neutral. Choose tops that can be layered and choose colors you can mix and match. Tank tops, button-down shirts and T-shirts make it easy to layer if the weather gets cool. Place the rolled cylinders of clothing into the plastic bags next to each other, so they look like a package of burritos. Squeeze out excess air. Layer the plastic bags in the luggage.

Choose trial-size toiletries. Leave full-size bottles at home. Use old prescription bottles to hold small quantities of shampoo, conditioner, lotion and body soap. Purchase sample-size items such as aspirin, deodorant and toothpaste. Place all items in a zip-top plastic bag to keep your clothing dry in case something leaks.

Cut down on shoes. Wear shoes on the first day of the trip that can be worn again. Choose shoes that work with a variety of outfits. For women, a slim white sneaker can be worn with jeans or dressy khaki pants. For men, a brown leather shoe works with both denim and khaki pants. Choose additional pairs of shoes that are slim and flexible, such as flip-flops, sandals or lightweight canvas slip-ons. Slide shoes into a bag next to the plastic bags.

Pack the outside. Place personal and everyday items in outer pockets of the luggage. Store car keys, identification, maps and tickets in these pouches for easy access.

Buy Luggage
Back to Guides Directory