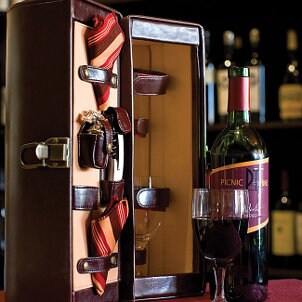 Dining outdoors is one of the best ways to enjoy warm weather and the changing seasons. A comfortable and relaxing picnic can help you recharge after a long week, especially if you plan ahead and invest in a few picnic supplies. Here's what to put in your picnic basket, so you can start a new tradition of weekend meals in the park, at the beach, or in the mountains.
Packing a Picnic Basket:

Plan your meal: Classic picnicking foods, like egg salad sandwiches, brownies, and potato salad, pack easily and always please a crowd. Don't be afraid to get more creative, especially if you plan to take a lot of picnics. Try something new each time you dine outdoors to create unique summer experiences. A picnic in the mountains calls for fresh fruit and tomato-and-basil paninis. When dining at the beach, consider smoked fish, crusty bread, and creamy cheeses.

Select your basket, tin, or tote: Classic, gingham-lined picnic baskets feature a traditional look and a compact, easy-to-carry design. If you want something a little more functional, consider picnic totes. Many picnic totes come fully stocked with plates, cups, cheese knives, and wine accessories. Some baskets, totes, and tins can be attached to your bicycle, worn as a backpack, or rolled like a suitcase.

Don't forget the necessities: The food, blanket, and soda are easy to remember, but several other supplies are essential for any successful meal. Plates, napkins, cups, bowls, and utensils may be required for your banquet. Paper dinnerware is convenient, but reusable sets and cloth napkins in bright colors add to the dining experience. If your picnic basket doesn't already come with dinnerware, buy a set that is just for picnics and keep your basket ready to go at all times. If you'll be having wine at your picnic -- and, of course, it is recommended -- then be sure to pack a corkscrew, wine glasses, and a bit of gourmet cheese or chocolate as an accompaniment.

Include surprises: Impress friends and family members with a few fun picnic surprises. Freshly baked cupcakes from your spouse's favorite bakery are a delightful end to a relaxing meal outdoors. Chocolate-dipped fruits are perfectly light and sweet for a warm day. Place an ice pack beneath a plate of chocolaty treats to keep them from melting while you enjoy your meal.
What Do You Want to Do Next?

Shop for Picnic Baskets
Shop for Coolers
See All Picnic Supplies
See All Guides
Read More Garden & Patio Guides
Learn More about Outdoor Cooking