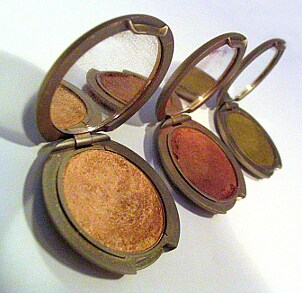 Things You Need:
Cosmetic case
Sticky notes
Whether you have an overflowing makeup bag or a drawer in your bathroom stuffed with various cosmetics, it's time to clean it out. Organizing your makeup is important not only because it clears up space, but because makeup often harbors bacteria that can cause skin problems if kept too long. If you want to pare down your cosmetics but aren't sure where to start, keep reading to learn how to organize your makeup collection.
Organizing Your Makeup:

Lay it all out. The first step when organizing your makeup is to make a singular pile with every cosmetic item you own. Lay down a trash bag on the floor and keep another one handy for throwing away old items.

Sort your makeup into piles. Create a pile for eyeshadow, blush, foundation, eyeliner, mascara and lipstick. You will also want to create piles for cosmetic tools like brushes, tweezers and applicators.

Check the expiration dates. Unlike food, makeup doesn't come with expiration dates stamped on them. Instead, it's up to you to remember when you purchased specific items and throw them out once they're old.

Makeup Expiration

Lipstick: Lipstick and lipliners can be used for up to two years. To help lipstick last longer, store it in the refrigerator.

Foundation: Foundation will last up to one year. The one exception to this rule is mineral makeup. Mineral foundation contains no moisture and is inorganic, enabling it to last almost indefinitely.

Powder: Powders like blush, bronzer and eyeshadow can last up to three years.

Mascara: Eye makeup like mascara should be replaced the most frequently since it tends to expire fast and is prone to collecting bacteria. Mascara should be replaced every four months or sooner if you notice it getting dry.

Makeup tools: Brushes tend to harbor bacteria, so it is essential to wash them every two to three months with hot water and mild detergent. Sponges should be washed weekly and discarded monthly.

Put it away. Once your makeup is tossed and your tools are cleaned, it's time to put them away. Place your everyday makeup essentials in a small cosmetic bag; this ensures that they are easy find each morning. For the rest of your makeup, place it by type in drawers or a small plastic cosmetic holder. Since brushes require frequent cleaning, place them in a small jar on your bathroom counter. This allows easy access and speedy drying time.

Take note. Now that your makeup collection is looking pristine, keep it organized by recording cosmetic purchase dates on a sticky note and keeping it in your medicine cabinet or on the inside of a drawer. Every six months take an inventory and toss the makeup that is no longer good.

Buy Makeup
Back to Guides Directory