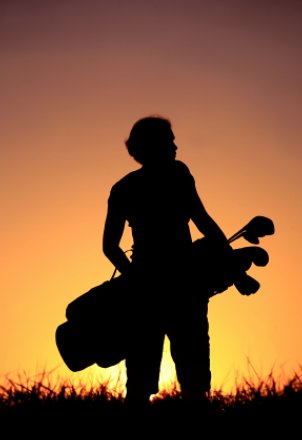 Your golf bag is more than just a receptacle for your golf clubs and golf balls. It should be an organized home to your golf equipment. By keeping your golf bag organized, it will be easier for you to compete because you will know where everything is and you won't have to search for anything in the middle of a round of golf.
Organizing a Golf Bag:

Most golf bags are divided into three sections. You should divide your clubs evenly into these sections. Place your woods in the first section of your golf bag. This may include your driver, 3-wood and 5-wood. If you have a hybrid club, you may want to include it in this section as well. Your putter also goes in the section with your woods.

Place your long irons in the second section. This includes your 2-, 3-, 4- and 5-irons. These are the irons you will use from the fairway or short rough. Many golfers no longer carry a 2-iron. If you don't have one, you can also put your 6-iron in this section.

Place your short irons in the third section. This includes your 7-, 8- and 9-irons along with your pitching wedge and sand wedge. If you have a lob or gap wedge, it will go in this section as well.

Place your golf balls and golf tees in one of the side pockets of your bag. You should always have at least a dozen golf balls in your bag. You may not go through more than a few balls in a round, but if you are at a new course or playing on consecutive days, you should be prepared. Keep several tees in your pocket for efficiency.

Keep an extra pocket in your golf bag available for food and drink. You may be playing on a hot day and should keep a cold drink or two in your bag. You can buy an insulated drink cooler that holds two drinks to keep in your bag along with a sandwich for sustenance.

Buy Golf Bags
Back to Guides Directory