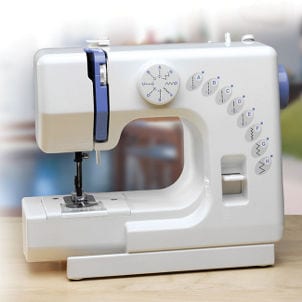 Things You Need:
Sewing machine
Fabric
Thread
Operating sewing machines can be a tricky process and requires a degree of patience in the beginning. Once you grasp the simple techniques that sewing requires, however, you will have the ability to sew almost anything you desire, using a sewing pattern or your own imagination and a sewing machine, saving you money and giving you a creative outlet. Learning how to sew is certainly worth the time investment.
Using a Sewing Machine:

Choosing the right sewing machine will get you started off on the right foot when you are new to sewing. If you are shopping for sewing machines for the first time, then you may feel a little overwhelmed. There are so many different varieties of sewing machines, and that can make it very difficult to know which one is right for you. If you are just learning to sew, then you should consider a sewing machine that is very straightforward, with a minimum of special features and advanced functions and techniques. You should also make sure that an advanced user's manual is included with your machine.

Setting up your sewing machine correctly is a crucial first step. When you get your sewing machine, you should spend a good deal of time getting to know it and its features. You will most likely need to do some very minor assembly to get your machine up and running. You may need to plug in your foot pedal and attach some of the smaller parts. You will then be ready to thread your sewing machine. Threading a sewing machine is a simple process, but if you have never done it before, your sewing machine's user's manual will give you basic step-by-step instructions.

Playing with your sewing machine before beginning any major projects will give you more confidence when you start sewing clothing, crafts and home decor items. Using some practice fabric, it is a good idea to give yourself a chance to try different things on your sewing machine before starting any big endeavors. Work on adjusting thread tension, which will usually be done using a dial that has a series of numbers from one to five. Start with the tension in the middle range and adjust the tension as you sew to choose the perfect stitch that is neither too tight, nor too loose. You can also practice with stitch patterns, the reverse switch and more advanced functions if your machine has these.

When you feel comfortable with your sewing machine, you can experiment with a few simple projects to get more familiar with sewing. Items such as bags, pillow cases, blankets and basic clothing accessories are great for sewing practice. You can create these items with or without the use of a pattern, but eventually, it will be important for you to learn to use basic patterns if you are interested in doing any intermediate or advanced sewing. Once you feel comfortable with your sewing skills, you might consider making a few items that you can give as gifts and start testing yourself with more difficult projects.

Buy Sewing Machines
Back to Guides Directory