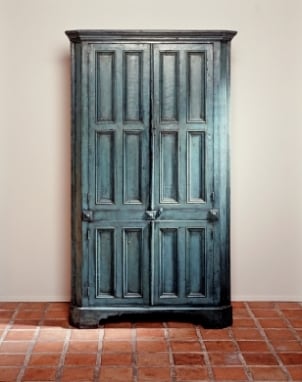 When it's time to move, you might be dreading the moment you have to pack up your furniture armoire. Although a furniture armoire might look intimidating, moving armoires doesn't have to be a problem. Instead of just gathering every bruiser in town to muscle your armoire out the door, follow these few tips to make the job easier and to make sure your furniture armoire makes it safely to your new location.
How to Move an Armoire:

Remove the drawers and contents. Removing the contents and drawers from your furniture armoire will lighten the load and make it easier to get the armoire out the door. Also, if you hang clothing in your bedroom armoire, you won't want hangers and other knickknacks banging around inside and scratching the furniture armoire's interior. After the drawers and clothes are removed from your armoire furniture, you can carry it outside with ease.

Replace the drawers. After going through the trouble of removing the drawers from your furniture armoire, it's time to put them back. When they are in the moving truck, drawers will give your armoire furniture added stability so that it won't bend or get warped in transit. You'll probably still want to leave the clothes out in a plastic bag to lower the weight. The less weight you have putting pressure on your furniture armoire, the better.

Wrap it up. Use a blanket or two to wrap completely around the furniture armoire. You can use duct tape to wrap around the blankets to make sure your bedroom armoire is completely protected. This will prevent the armoire from getting dinged or scratched while it is being transported.

Rewind and repeat. After you transport your furniture armoire, just repeat the steps in reverse order to move it into your new residence. Whether you have a TV armoire, computer armoire, jewelry armoire or bedroom armoires, these handy steps will ensure you are able to move any type of armoire furniture without any trouble and without damaging the armoire itself. Of course, make sure you have the help of movers you trust not to bang around your furniture armoire unnecessarily.

Buy Armoires
Back to Guides Directory