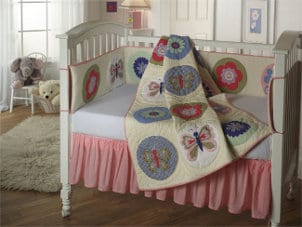 Preparing the nursery with baby furniture is almost as exciting as welcoming your new baby home. Many parents choose to furnish their nursery with baby furniture sets, while other parents choose to mix and match furniture. Maybe you have inherited an heirloom crib or maybe you just want to create a one-of-a-kind nursery for your little one. There are many reasons you may choose to mix and match your baby furniture, but it may be difficult to find the right pieces to go together. The following tips can help you learn how to mix and match baby furniture so you can get started on furnishing your baby's room.
Mixing and Matching Baby Furniture:

Coordinate: When you're mixing and matching nursery furniture, you'll want to pay attention to color, style and even wood grain if you're choosing wood baby furniture. While it's fun to mix and match, you still want your furniture to look good together in the nursery. You can either choose wood furniture in all the same color or, for a bit of variation, combine warm or cool wood colors to create a certain look and feel. Similarly, if you want a contemporary look, choose various pieces with straight lines and clean construction; choose softer designs for a more classic look.

Stand-out piece: Whether it's your heirloom crib or a glider in a bold pattern, when you mix and match baby furniture, it helps to have one stand-out piece to tie the whole nursery together. Choose other pieces that play off the color and design of your nursery's focal point. For example, pair a cherry red crib with an oak changing table and navy blue throw pillows or pair an antique rocking chair with classic mahogany nursery furnishings.

Measure: One of the biggest challenges of mixing and matching furniture is that your furniture isn't designed like a set. This may make arranging the furniture in your nursery difficult. When you're shopping for nursery furniture to mix and match, measure your nursery to know how much space you have. Then check dimensions on each piece of furniture to make sure it will fit in your nursery and fit together well.

Everything you need: When you're setting up your nursery, you want to make sure you have all the furniture you need to make your nursery comfortable for you and your baby. When you mix and match, the basics of your nursery should be your first priority. A crib, dresser, changing table and rocking chair or glider are must-have items for any nursery. You may also want to purchase a hamper, baby closet organizer and bassinet to coordinate with the nursery furniture you've chosen.

Buy Baby Furniture
Back to Guides Directory