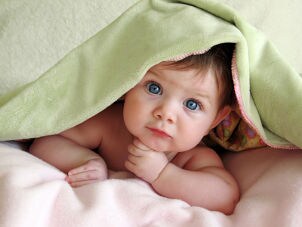 When you're getting your nursery in order, baby bedding sets offer you a fast and easy way to outfit your crib with cute sheets, blankets and pillows. Baby bedding sets aren't for everyone, though. What if you have an heirloom baby quilt or just want to mix things up a bit? A prepackaged baby bedding set isn't going to meet your needs. The following tips can help you mix and match baby bedding for a unique nursery that's anything but cookie cutter.
Creative Baby Bedding:

Touch on a motif: You don't want your baby bedding to be a mish-mash of colors and patterns, so you'll want to pick a motif to focus on. Don't overdo it either. No one wants to be bombarded with flowers or fire trucks. Select a motif to stick to but limit yourself on the number of butterfly items you're going to buy. Choose a couple pieces, like a pillow and quilt that showcase the motif, and display them prominently.

Work with colors: The key is to pick a handful of colors for your baby bedding that complement each other. You'll usually want to go with one or two bold colors and a neutral to balance it out. Red and navy go great with beige; pink and green are complemented by ivory; and baby blue loves tan. Boldly colored quilts are toned down with neutral sheets, and bright throw pillows could always use softer friends. Look for sheets, bed skirts and bumper pads that mix all your colors into a pattern for a truly balanced look for your baby bedding.

Hold the reins on patterns: Polka dots, stripes, checkers and plaid are all fun, but not all at the same time. The easiest way to incorporate a pattern into your baby bedding is to choose one pattern and pair it with solids. Pair a striped bumper pad and bed skirt with a solid fitted sheet or vice versa. That way, your baby bedding won't get overwhelming. If you must have polka dots and florals, choose one to be the dominant pattern and go light on the other. A bold floral quilt will stand out just fine against a micro-dot bumper pad.

Piece it together: It's recommended that infants sleep in a crib with just a single, snug fitted sheet. You can certainly buy the rest of the baby bedding, though, and display it in the crib when your little one is awake. Later on, when your baby is older, you'll be able to tuck him in under a quilt with a bumper pad around the sides. If you want a complete baby bedding set, look for a fitted sheet, bed skirt, bumper pad, quilt and pillows that coordinate.

Buy Baby Bedding
Back to Guides Directory