How to Measure the Case of a Watch
by Melissa Amon

Measuring the case of a watch is helpful when you are purchasing new watchbands and when you are shopping for a new wristwatch. A watch case, which is the part that houses the dial, battery, movement and other parts, can be miniscule, huge or anywhere in between, so knowing the measurements can be very useful. Use wristwatch case measurements to choose new watchbands or find a men's or women's watch with the right-sized dial for your look and style. Keep reading to learn how to measure the case of a watch.
Measuring a Watch Case: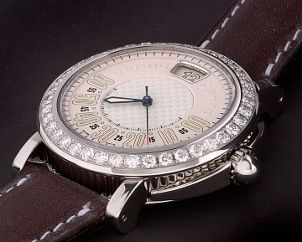 Shop Watches ▸
Locate the lugs or arms.

The lugs or arms are the parts that extend from the top and from the bottom of the watch case. The lugs hold the watchband in place with the help of a small rod or pin. Watch arms can be different widths and lengths depending on the men's watch or women's watch brand and model, so knowing the measurements is very important.

Measure the space between lugs.

It is important to be precise when measuring the space between watch arms. Use a metric ruler with clear millimeter markings and don't estimate. The millimeter is a small unit, so the slightest mistake could cause you to purchase the incorrect watchband for your watch. Be sure to measure the space between both sets of lugs to be certain that the measurements are the same.

Measure the face of the watch.

Measuring the face of the watch can help you visualize how the new watchbands will look, and it can also be useful when shopping for a new watch entirely. Millimeters are still recommended, although other measurement types may be used by some watch retailers.
Watch Measuring Tip:
You might be able to take a shortcut if you are looking for measurements for new watchbands. Check the back of your existing watchbands for a number, which may be listed with the abbreviation "mm" for millimeters. This number is the measurement for the area between the watch arms and is indicative of the size you will want to purchase.