How to Measure for Curtains
by Staff Writer
Published September 16, 2010 | Updated June 16, 2015
Curtains add privacy and style to a room, but before you buy a set, you'll need to know which size is right. You'll find that curtains usually come in lengths of 63 inches, 84 inches, 95 inches, 108 inches, and 120 inches. The length you choose will depend on the look that you want as well as the placement of your curtain rod.
Get the Look with Curtains: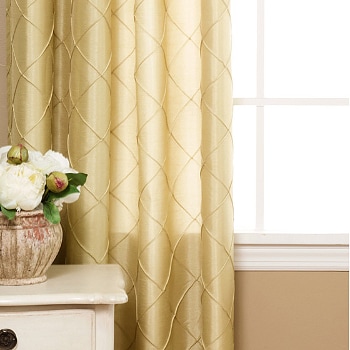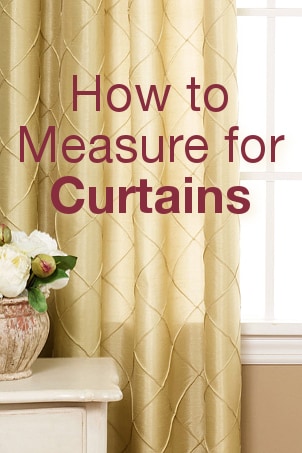 Shop Curtains ▸
Traditional Style

For a classic, tailored look, hang your curtains 6 inches above a window frame, 3 inches beyond the sides, and 3 inches below the bottom. To get this look, measure the height of your window -- including the window frame -- and add 9 inches. Then, measure the width of the window; you'll want curtains that are about one-and-half times wider than the window for a crisp, tailored look. It is customary to have curtains and drapes hang beyond the sides of your windows. This provides three benefits: First, they completely hide the frame; second, when they are drawn open, they don't block any light from the window itself; and third, the window appears larger than it really is.

Contemporary Style

Hanging curtains so they just touch the floor will give the room a more contemporary feeling. Measure from about 1 inch above the floor to the height above the window frame where you want to place the rod; this can be 6 inches above the frame or as high as the ceiling, if you prefer. The width of the curtains can be one-and-half to three times wider than the window; for visual balance, the higher you hang your curtain rod, the fuller the curtains should be.

Luxurious Style

For a truly opulent look, hang your curtains as close to the ceiling as you can and let them "puddle" a bit on the floor. This works best with sheer curtains, as heavy draperies are often too stiff to rest on the floor in a natural way. To have enough fabric for this effect, measure from the ceiling to the floor and add 8 to 10 inches to the height. When you measure the width of the window, multiply the measurement by three to have enough fullness.
Curtain Measurement Tip
When you measure for curtains, be sure to use a metal tape measure. Fabric tape measures can stretch and bend, so the measurement may not be as accurate.