How to Measure for Bridesmaid Dresses
by Raechel Conover
A wedding is an important event for all of the women involved, not just the bride. While the bride's happiness is crucial, bridesmaids also want to feel special and beautiful as they wear bridesmaid dresses to support one of their best friends or family members. However, it can be difficult to find a bridesmaid dress that fits each woman in a flattering way. These tips can help you with measuring yourself for a perfectly fitted bridesmaid dress
Instructions: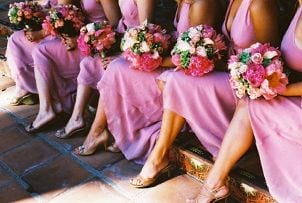 Shop Bridesmaid Dresses ▸
Put on the undergarments that you plan to wear under your bridesmaid dress.

This includes a bra or corset and any other necessary undergarments. If you plan to wear any body-slimming shapers, be sure that you have purchased the correct size. You don't want uncomfortable underwear that will make your dress fit more tightly.

Begin at the bust.

Have someone help you take measurements. Wrap the measuring tape around the widest part of your bust but don't pull the tape too tightly. If your bodice is too tight, it will be difficult to breathe and move freely.

Measure your natural waistline.

This is where you would rest your hands when standing with your hands on your hips, almost resting on your hip bones. It is important that you do not suck in your stomach or pull the tape too tightly. Give yourself a bit of breathing room.

Determine your hip measurement.

Where you measure your hips depends on the type of dresses you are measuring for. If you plan to wear an A-line dress, measure the biggest part of your hips. For a sheath dress, measure the biggest part of your bottom. Stick a thumb between the tape and your hips to avoid pulling it too tightly.

Calculate your height.

To determine your height, stand with your feet together, wearing the shoes that you plan to wear with the dress. Have a friend measure your height with the measuring tape. If you are taller than 5 feet 10 inches, consider ordering a tall size. This can be an added cost, but it is much easier to hem a bridesmaid dress than to add fabric if the dress turns out to be too short.
Tip
Don't worry if the size of your bridesmaid dress is different from or larger than your usual size. Formal dress sizes are somewhat different from traditional dress sizes. Pay attention to how the dress fits, not the size.