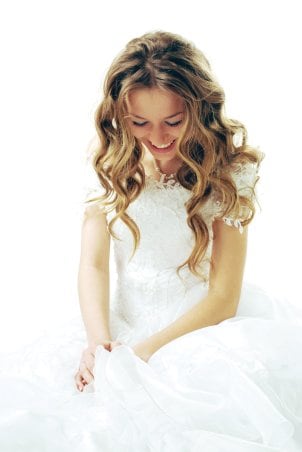 Once your wedding is in the works and you have a ring on your finger, it's time to shop for your wedding dress. Planning for the perfect bridal gown should begin months before the wedding day. With so many styles, cuts, and features on the market, it's difficult to know what style will look best on you. Start by measuring yourself for the wedding gown. Knowing if you have a long torso, full bust, or narrow hips will help determine what style works best with your physique.
Measuring for a Wedding Dress:

Get a wedding planning notebook. Use it to keep notes of everything regarding the wedding. Write down your measurements as you go, so you can easily compare them against measurements of bridal gowns you admire.

Wear only a bra and panties when measuring for the wedding dress. Wear a bra or bustier similar to the style you plan to wear on your wedding day to get an accurate measurement. It's best to wear a strapless bra. Wear undergarments that are either white or nude-colored, so you won't be distracted by any peeping prints.

Place a vinyl tape measure around your torso. Hold the tape behind you and raise it up your back so it sits under your armpits. Bring the tape measure around the front. Pull it snug (but not tight) across the fullest part of your breasts. Record this as your bust measurement in your notebook.

Measure your waist. Slide the tape measure down to your stomach. Bring the tape measure around so it sits even with your belly button. Pull the tape snug and record the measurement.

Lower the measuring tape to your hips. Stretch the measuring tape around the fullest part of your buttocks. This is approximately 8 inches below your belly button. Pull the tape snug and record this as your hips measurement.

Measure for the back of the dress. Tie a piece of string around your waist, level with your belly button. Have a friend measure from the string to the first most prominent bone in the base of your neck. Record the measurement.

Measure for the skirt. Put on shoes similar in height to the shoes you plan to wear with your wedding dress. Using the same string tied to the waist, measure to the floor. Record this measurement.
Wedding Dress Measurement Tips:

Brides usually wear a gown that is one or two sizes larger than their standard dress or pants size. This is common since wedding attire usually has several layers and is usually tailored to every curve.

Ask a close relative or friend to do the measurements for you again. Make sure your numbers are accurate before ordering a gown.

If you don't have a cloth measuring tape, use a piece of yarn or string, and then measure it with a ruler.

Buy Wedding Dresses
Back to Guides Directory