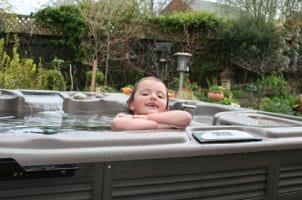 So you have your perfect hot tub picked out. Everything is set, and you just need to get it home and plug it in, right? Wrong. As simple as it may seem, you must heed a few considerations before making your purchase. Manufacturers have become creative in the past few years when it comes to building hot tubs. You will find that there is a hot tub to suit just about everybody. Whether you want a hot tub for entertainment, relaxing or sports therapy, here is how to measure for a hot tub so that you can get the most out of your hot tub experience.
Measuring for a Hot Tub:

What do you want a hot tub for? Of course, the space needed will depend on how many people you want to fit inside your spa or hot tub. Do you prefer the serenity of a personal spa with just you and your partner? If so, a two-person hot tub would suit your needs. On the other hand, would you prefer to accommodate six or seven of your closest friends? In that case, you'll need a larger spa or hot tub.

Where do you want it? Most people prefer a little privacy, but you can put a hot tub just about anywhere you want. Just remember that once filled, it is a big, heavy tub of water. Be sure to:




Check for overhead power lines.

Check the walkway between the changing room and the hot tub. You may want to steer clear of walking over grass or dirt.

Check the distance between the hot tub and the electrical outlet, the hose and the drain.

How are you going to get it there? The retailer will have the specific measurements of your hot tub for you, but you want to be certain that you can place it where you want it. Although some hot tubs are built to be able to fit through a standard doorway for easy installation, you may still need to clear a path of any debris, check the overhead clearance or shovel a path through the snow.
Hot Tub Tips:

It takes a little work to install your hot tub before you can enjoy it, but with a little planning, you too will soon be soaking the worries of the day away in soothing bubbles.

If you're putting a hot tub on your deck, you may need to reinforce your deck to avoid warping or breaking it.

Buy Hot Tubs and Spas
Back to Guides Directory