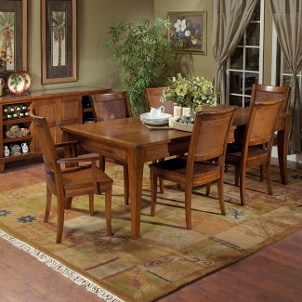 Things You Need:
Measuring tape
Masking tape
A beautiful dining table is not only the centerpiece of any dining room; it is often the heart of the home as well. Many people choose the largest dining table they can, but it's important to ensure that you have adequate space not only for the table but also for the chairs and the people who will be sitting in them. Measuring your dining area for a perfect fit isn't complicated and will guarantee a comfortable dining experience for years to come.
Measuring for a Dining Table:

Decide where you'd like to put your dining table. If you have a designated dining room, you'll likely place the table in the center of the room there. If your dining area will be at one side of a larger living area, like a great room, check your ceiling to see where there is wiring for an overhead light fixture. Whether or not you have a designated room, make sure the dining area you set up is close to the kitchen, so bringing in food will be easy.

Use masking tape to mark off the spot where you decide to place your dining table. If you have a dedicated dining room, you can simply measure the room while taking into account any large furniture pieces you may have, like a china hutch or buffet. If your dining area is part of another room, mark the boundary line. This will give you a visual border and help you figure out the amount of space you can allocate to your dining room furniture.

Measure the space. Allow for at least three feet of space on all sides of the table to accommodate chairs and people. This space will allow people to walk around the dining table and chairs, even when others are seated. You can choose a bigger dining room table, but a table that is too large for its designated area will crowd the space and make working around the table and chairs more difficult. Make sure you write down the measurements of the room or designated space and keep them with you when you shop.

Shop for your table. When you're shopping for your dining room table, you'll need to make sure that you compare your dining room's measurements against your potential dining table. Include the dining chairs in your measurement of the furniture when you compare it to the space available.

For the greatest amount of flexibility, look for a dining table with a built-in extender or removable leaves. That way, you can use the same table for an intimate dinner for two or a holiday feast for 10. This type of extendable dining table is a great choice for smaller spaces. If you'll leave all the leaves in most of the time, base your measurements on the fully extended table. If you'll only extend the table fully for a few dinners a year, you can decide if you don't mind guests squeezing around the table on those days.

Buy Dining Tables
Back to Guides Directory