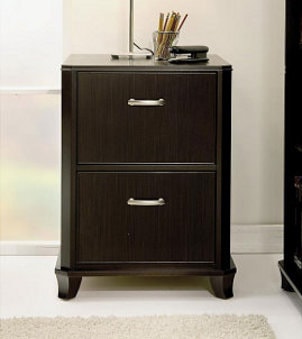 If you have to handle lots of important documents, filing cabinets are the best way to store and organize large amounts of documents in an easily accessible way. Businesses and homeowners alike can benefit from the way filing cabinets allow access to important documents in a matter of seconds. If you're buying new file cabinets for your home or office, keep in mind that deciding whether or not you want wood file cabinets or traditional metal file cabinets is not the only thing to consider. Choosing file cabinets that are the right size may seem like a straightforward process, but if you fail to take all important factors into consideration, you may wind up purchasing cabinets that you are unable to properly use. Take a look below to learn how to measure an office for filing cabinets.
Measuring for File Cabinets:

Measure height. Measure the height available for file cabinets. Take into consideration light switches, windows and other items that will not be accessible if a file cabinet is placed in front of it. If you are in an office building, ask about any fire code restrictions that might affect the height or placement of the filing cabinets.

Measure length. Measure the length of the wall area you have available for file cabinets. Be certain to measure from the inside of any baseboard or other wall molding, as the cabinets will not be able to sit flat against the wall if molding is present. If you have windows or other items to work around, note the available distance between obstructions.

Measure the depth available. Remember that you must be able to access drawers when they're pulled out. Simply having enough room for the cabinet will not suffice. If you have limited depth to work with, consider long cabinets that file data sideways rather than deep cabinets with long drawers.

Map it out. Create a scale drawing of the floor space and the available dimensions. Take all obstructions into account. Obtain measurements for different cabinets and mix and match them until you've created the most filing space possible. This step may seem superfluous, but you may be surprised to see that you have much less (or much more) space than you assumed.

Buy File Cabinets
Back to Guides Directory