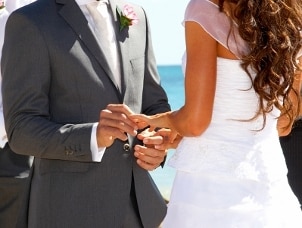 Commemorate one of the most important days of your life with fashionable wedding jewelry. Wedding rings and engagement rings are available in a variety of styles, making the shopping process quite involved. You have a several options for making sure that your wedding ring matches your engagement ring in a sleek and modern way. Consider the metals and stones when shopping for a wedding band and don't forget about bridal sets. Use these tips to match your wedding band to your engagement ring.
Choosing a Wedding Ring:

Metals: Shopping by metal is one of the easiest ways to choose matching wedding jewelry. If your engagement ring is made of white gold, then be sure to look at white gold wedding bands. Yellow gold wedding rings look best with yellow gold engagement rings. Some two-tone wedding jewelry is available. Two-tone jewelry incorporates both yellow gold and white gold into one cool design. Two-tone wedding rings are great for brides and grooms who like to accessorize with a wide variety of jewelry styles.

Stone shape: Some wedding bands are plain, but others incorporate diamonds or colorful gemstones into the design. If you choose a wedding band with stones, consider the shapes of the stones in your engagement ring to find a matching wedding ring. Stone shapes don't have to match exactly, but an engagement solitaire with a round stone may look best with an eternity band that has channel-set round diamonds.

Modern vs. contemporary: In most cases, vintage engagement rings look best with antique wedding bands and modern engagement solitaires look with best with contemporary wedding rings. Isolate the wedding band designs that best mimic the style of your engagement ring to make the shopping process simple.

Bridal sets: Bridal sets make choosing matching wedding jewelry very simple. Bridal sets incorporate both the engagement ring and wedding band into one lovely piece. The engagement ring can be worn on its own, as can the wedding ring, but the pieces fit together like a puzzle when you want to wear both. Bridal sets are available in a range of styles to suit your personal taste.

Buy Wedding Rings
Back to Guides Directory