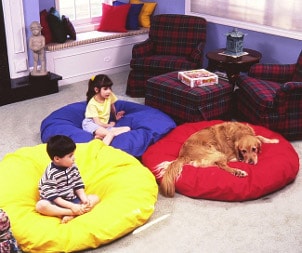 You don't normally picture a bean bag when you think of living room furniture. However, this casual type of furniture brings warmth and coziness to an otherwise austere room. If you're thinking about adding bean bags and lounge bags to your living room, then be sure to consider a few simple rules before you make your final purchase. Read the article below for helpful ideas on how to match your bean bag to your living room.
Bean Bags for Your Living Room:

Start with color. Bean bags come in a variety of colors, from fun and funky to neutral. While a comfortable, loud and bright bean bag won't necessarily match your neutral or formal living room, that doesn't mean you should give up the idea of having bean bags in your living room. Take a good look at your living room and pick out your main color plus a few secondary or accent colors. You can then buy a bean bag that matches your living room walls, your couch or one of your accent colors with a splash of color. This way you can still have color without your guests being distracted by an overly bright pop.

Texture matters. Since your bean bags are part of your living room furniture, you'll want to make sure that the bean bag's fabric matches your other furniture. Use microfiber bean bag chairs in your living room that already has microfiber furniture. Living rooms already decorated in traditional styles will look mismatched and eclectic if you add a bean bag chair made of vinyl. Modern-styled living rooms would be a much better choice for a vinyl bean bag.

Pick the right size. Bigger is not always better when it comes to bean bag size. A bean bag that fills up your entire living room will end up causing more problems than it solves. If you're looking for additional seating for your living room, measure your available space before your purchase your bean bags. Instead of buying a giant bean bag that will fill up all your floor space, think about purchasing several bean bags of varying sizes. This way you will still have enough seats for your guests and your smaller, lightweight bean bags will be easier to pick up, move and store.
Tips from Overstock.com:

Add variety. You don't have to limit yourself to traditional bean bags. Try adding a bean bag ottoman or bean bag chair to your living room. These types of living room furniture are just as comfortable and should fit right into your living room decor.

Don't be afraid to update. Don't worry about your bean bag if you want to redo or update your living room. You can always invest in a new bean bag cover when you decide on your living room's new look. Just cover your old bean bag and you have a perfectly matched piece of furniture for your new room.

Buy Bean and Lounge Bags
Back to Guides Directory