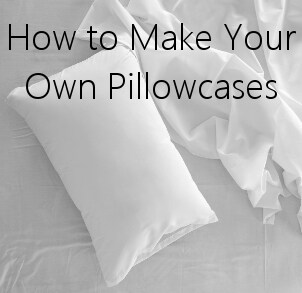 Things You Need:
Sewing machine
Fabric
Thread
Iron
Ironing board
Optional Embellishments:
Ribbon
Lace
Fabric paints
If you're looking for a fun project and a way to add a personal touch to your bedroom decor, then you might consider making your own pillowcases. Sewing your own pillowcases will let you have the exact color and style you want. You can even embellish homemade pillowcases with decorative elements and make them truly unique. With just a few supplies and one of many easy-to-use sewing machines, you can start putting your personal stamp on every bed and pillow in the house. The process of making a pillowcase is simple as long as you follow a few rules.
Making Pillowcases:

Choose your fabric. When you start shopping for fabric, thread, and embellishments, you have endless options and can have a lot of fun with the process. This is your first opportunity to get creative.

Measure your pillows or use existing pillowcases as a guide for how much fabric to cut. Remember to leave enough room for the seam; about half an inch on each side is good.

Prepare your fabric for sewing. Always carefully pin your fabric together before you sew to avoid making mistakes. Pin the fabric with the wrong sides facing out, so after you have sewn the pieces together on the sewing machine, you can turn them right side out and have a nice, clean edge. Ironing your fabric before you start sewing can help you to create perfect pillowcases. Additionally, ironing your seams flat after sewing will help the pillowcases lie flat and give them a professional look.

Be sure to leave space at the top to hem the pillowcase. Hemming with a nice rolled seam will keep your pillowcases looking professional wash after wash.

Add decorative embellishments. The nice thing about making your own pillowcases is that they can be as simple or as advanced as you like. Add decorative ribbon trim or lace for a professional-looking pillowcase or have your children decorate your homemade pillowcases with fabric paints. You can even add your own original artwork to your pillowcases for a unique way to show off your creative side and talents.

Make more! From bright fabric with contrasting stitching to pretty decorative touches, you can truly have any style of pillowcase you want when you make them yourself. You might even consider sewing pillowcases for different holidays or for different seasons. You can use them yourself or give them as gifts.
What Do You Want to Do Next?

Shop for Sewing Machines
Shop for Sewing Supplies
See All Sewing & Quilting
See All Guides
Read More Craft Guides
Learn More about Sewing & Quilting