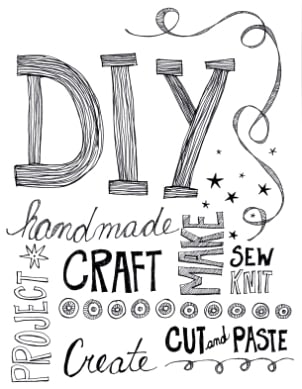 March has been designated as National Craft Month in the United States, so why not celebrate it by making some of the crafts you've been meaning to try? Whether you plan to work on some kids' crafts with your family or celebrate St. Patrick's Day with festive holiday crafts, the following ideas will help you get started this month. Read on for tips on making the most of National Craft Month.
Celebrating National Craft Month:

Start with a simple craft project. Whether you're new to arts and crafts or have been creating art since you could walk, beginning National Craft Month with easy crafts will motivate you to work on more difficult projects later. Why not start with a few simple paper crafts, such as pinwheels or tissue paper roses, before you move on to greeting cards or origami shapes? You can often use the easy crafts you make to supplement other crafts later, especially if you'll be scrapbooking or card making. If you'll be working on projects with your children, select kids' crafts that are appropriate for each child's age so they don't become frustrated.

Try a new craft you've always been interested in. If you've wanted to take up knitting or stamping for awhile, National Craft Month is the perfect time to start. Many stores, especially online stores, offer deals on craft supplies and specialty tools during this month, and you can often find craft ideas and tips that can help, whether you're a beginner or an advanced crafter. March is also a great time to stock up on the craft supplies you use all the time, including patterned paper and adhesives.

Choose crafts you can finish during National Crafting Month. While you may be tempted to begin on a large project, such as handmade quilt or knitted afghan, during March, you'll be more motivated to finish crafts that can be completed before the month ends. Making seasonal crafts you'll be using in the next few months for Mother's Day or other springtime celebrations are a great way to use your time, as are arts and crafts you can give as gifts, such as knitted scarves or paper crafts like handmade cards and stationery. You could also write down craft ideas you want to try during different weeks of the month to keep yourself on track. If you do want to start a bigger craft, set deadlines for yourself so you'll complete the project. For example, you might set a goal to scrapbook 20 pages or finish half of your quilt by the end of the month. Once National Crafting Month ends, you can continue to set deadlines so you'll be able to finish your crafts and move on to something else.

Buy Crafts and Sewing
Back to Guides Directory