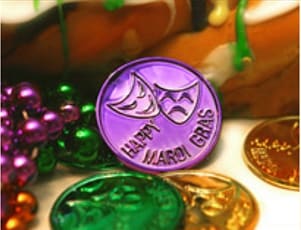 Pastry:
1 cup milk
1/4 cup butter
2 (0.25 ounce) packages active dry yeast
2/3 cup warm water
1/2 cup sugar
2 eggs
1 1/2 teaspoons salt
5 1/2 cups all-purpose flour
Frosting:
1 cup confectioners' sugar
1 tablespoon water
King's cakes are a traditional Mardi Gras food derived from the English Twelfth Night festivity of baking a cake at the end of the 12 days of Christmas and including a bean or pea in the batter. . The person who received the hidden bean in their slice was designated King or Queen for the party. Today, the king's cake is more like bread topped with icing sugar. Inside, a tiny plastic baby is baked into the cake, and whoever finds it in their slice must bake next year's king's cake or host next year's party.
King's Cake Directions:

Scald the milk, remove from heat, and add 1/4 cup of butter. Cool to room temperature. Meanwhile, dissolve yeast in warm water with 1 tablespoon of sugar. Let stand until frothy, about 15 minutes.

Add cooled milk mixture to the water and whisk in eggs. Stir in sugar and salt, and then beat in flour 1 cup at a time. Knead on a lightly floured surface until smooth and elastic.

Return dough to bowl, cover with a damp cloth or plastic wrap, and let rise for about 2 hours, until doubled in volume. After it has risen, punch down the dough and divide into thirds.

Preheat oven to 375° F and grease 1 cookie sheet.

Roll dough into long tubes and braid. Join ends to make a ring. Leave to rise again in a warm spot for 45 minutes.

Bake for 30 minutes. While the dough is still hot, push the doll or trinket into the bottom of the bread.

Let cool slightly, but frost while still warm with confectioner's sugar mixed with 1-2 tablespoons of water.

Decorate with colored sugar, if desired.
King's Cake Tips:

If you'd like to have a king and queen at your party, double this recipe and bake two cakes: one for the men to eat and one for the women.

Instead of the plastic baby, you could bake a coin into your cake. The person who finds the coin is believed to be in for a year of prosperity.

Buy Bakeware
Back to Guides Directory