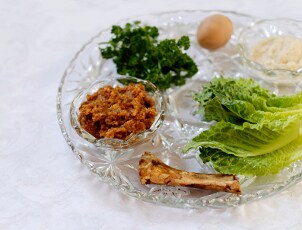 SHOP KITCHEN & DINING NOW >>
Ingredients:
3/4 cup tart apples (peeled and chopped)
3/4 cup sweet apples (peeled and chopped)
1/2 cup almonds or walnuts
2 tablespoons sweet red wine or grape juice
1 tablespoon cinnamon
2 tablespoons honey
Preparation for Passover involves a lot of time in the kitchen. The Jewish holiday not only involves a thorough cleaning of the kitchen; it also requires special foods for the Seder feast and separate cookware and dishes that you don't use during the rest of the year. The foods of the Seder plate are symbolic and include bitter herbs to help emphasize the bitterness of slavery and a mixture of fruit, nuts, and wine called "charoset" to recall the mortar used by Hebrew slaves in the Pharaoh's construction projects. Charoset (also spelled haroset) is one of the most popular foods served at Passover meals.
Preparing Charoset:

Heat an oven that has been cleaned for Passover to 350° F.

Spread the almonds or walnuts on a rimmed baking sheet and toast for 10 minutes, or until fragrant. Allow to cool and chop.

Mix all the ingredients together and refrigerate the charoset several hours or until the wine is absorbed. The texture will depend on how finely you chopped your apples and nuts; the mixture should resemble a salad rather than a paste. Honey serves as both a sweetening and bonding agent.

Adjust the seasoning (cinnamon and honey) to taste after the mixture is chilled. Stir again, and then chill it until serving time. If the mixture is too dry, you can add a little more wine or grape juice.

Serve the charoset chilled and be sure to have plenty of matzo crackers to eat with it.
Charoset Tips:

Double or triple the recipe if you are preparing it for a large family Seder.

Make sure to choose a kosher red wine; the label will state that it is kosher for Passover. A popular choice is Manischewitz Extra Heavy Malaga, but kosher wines have become more abundant and sophisticated in the last few years, so there is a variety to choose from.

Shop Cookware
Shop Dinnerware
Shop All Kitchen & Dining
See All Guides
Read More Kitchen & Dining Guides
Get More Cooking Tips
Published April 29, 2010
Updated April 3, 2015