How to Make Chair Slipcovers Fit
by Michelle Bell
Published April 29, 2010 | Updated August 7, 2015
If your upholstered furniture is looking worn and outdated, why not update it with a stylish slipcover? Slipcovers are an inexpensive way to revive the look of old seating in just a few minutes. It's an easy way to redecorate, and it's less wasteful than throwing out a chair that still feels solid, even if it isn't looking so great. Whether you need to update your dining chairs or a living room chair, you'll want your new chair slipcovers to fit properly. Here's how to get a snug, stylish fit.
Making Chair Slipcovers Fit: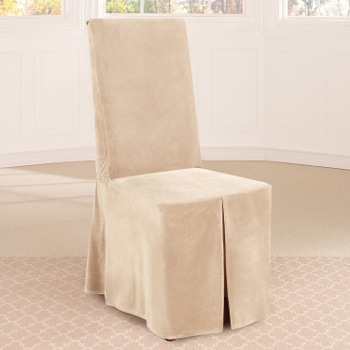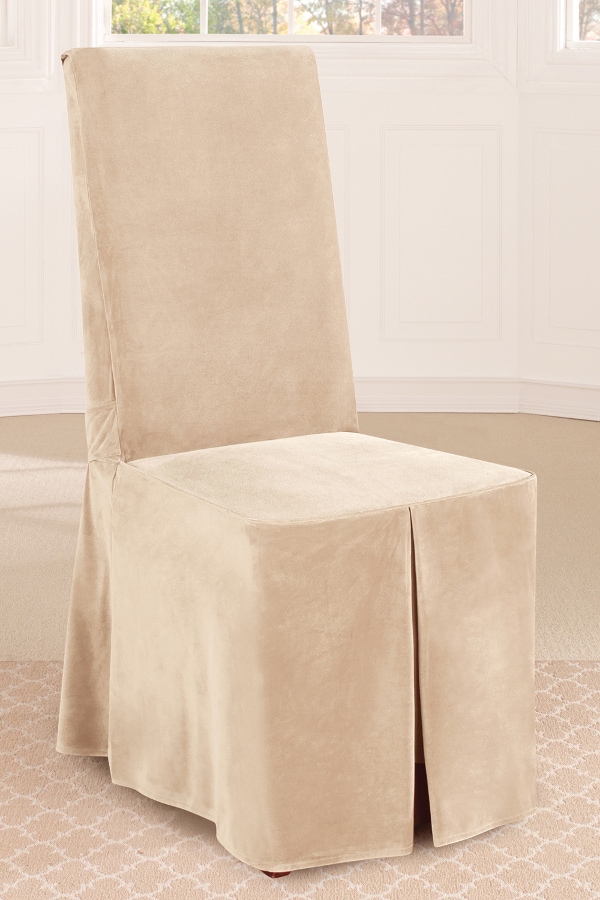 Shop Chair Slipcovers ▸
Prepare the Slipcover

When your new slipcover arrives, it will be folded up tightly in the package. Remove all the packaging and place it in the dryer with a damp towel. Tumble the slipcover on low heat for 20 minutes or so. This will steam out the wrinkles, so it will be ready to use.

Completely Cover the Chair with the Slipcover

If you're working with an armchair slipcover or a wing chair slipcover, you may need to have another person help you stretch the fabric over the edges. Adjust the fabric of your slipcover until it drapes evenly over the chair. Line up the seams of the slipcover with the edges of the chair. Make sure that the excess fabric at the sides of the chair is the same length, so you can tie your slipcovers back when you're finished.

Form the Slipcover to the Front of the Chair

On most upholstered chairs, you can tuck loose fabric into the gaps between cushions. If you are adding dining chair slipcovers, you'll need to pull the fabric as tight as you can against the back of the chair, so it looks smooth. Fitted slipcovers with a bit of stretch will be easy to use.

Stretch Excess Side Fabric Down

Smooth out all wrinkling and bunching fabric as you pull your stretch slipcovers down. If you'd like a little more security, pin these "wing" sections of your slipcovers to the fabric underneath them, where the seat meets the back of the chair. Hide the safety pins between the fabric pieces of your slipcover. You can also use straight pins to smooth your slipcovers.

Fasten the Closures

Most slipcovers for chairs come with ties to tighten the fabric into place. Be sure to tie a firm knot to hold these in place. Some slipcovers may have buttons instead of ties. A stretch slipcover will not always come with ties.