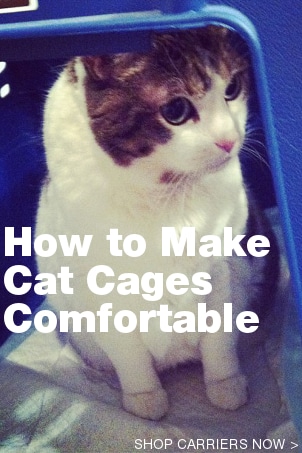 When you need to put your cat in a cat cage, you want to make sure she's as comfortable as possible in there. Pet cages can be cold, hard, and lonely for kitties, but with the right preparations, cat carriers can actually become cozy. Whether you're taking her to the vet in a kennel, flying with her on an airplane, or keeping her sequestered while allergic guests are in the house, helping your cat feel comfortable will make things easier for both of you.
Making Cat Cages Comfortable:

Make it soft and warm: Cats love to snuggle up somewhere quiet, warm, and cozy. Place a crate bed on the floor of the cat crate to make it both warm and soft for your kitty; these are made to fit right into carriers and are shaped to fit from wall to wall. A heated pet bed can also make the floor of the cage warm and keep your cat warm while she's inside. If you keep your cat cage in a garage or storage room while not in use, bring it inside to warm up for a while before you put your cat inside.

Get the right size: The size of carrier you choose can help make your cat comfortable as well. You'll want to make sure it's large enough to allow your cat to stand up, turn around, and lie down. If your cat is spending extended periods of time in her cat cage, you'll want to make sure it's large enough for her to walk, jump, and play as well. Portable pet carriers are usually sold by the pet's weight, so be sure to check her weight before you buy one.

Give her toys and treats: Giving your kitty some of her favorite things, like catnip, toys, and treats, can help make time in a cage more comfortable for her. You can even encourage your kitty to become familiar with her cat carrier beforehand by placing toys and treats inside. She'll learn to explore the cage and become comfortable with it on her own terms.

Provide food and litter: If your kitty is spending extended periods of time in a pet cage or carrier, you'll want to make sure she has food and water while she's in there. You can purchase stands that hold pet dishes to keep them from spilling while inside your cat's crate. Similarly, you'll want to provide your kitty with a litter box to use while she's enclosed. Make sure the pet kennel you choose is large enough to have food, water, and litter inside, while maintaining enough room for your kitty to move around.

Prepare for long stays in the cage: Before long car rides and even short trips on an airplane, you'll want to take your kitty to a vet to check up her health and to make sure all vaccinations are up-to-date. You may even need special paperwork verifying her health, depending on your destination. Some cats will feel stress from being in the carrier for a long time; you may want to ask your vet about sedatives, calmatives, or calming aromatherapy.

Shop Portable Carriers
Shop Crate Beds
Shop All Pet Carriers & Travel Supplies
See All Guides
Read More Pet Guides
Learn More about Pet Gear & Supplies