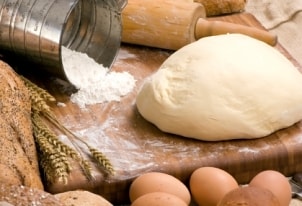 There's nothing quite like the taste or smell of freshly baked bread, and there may also be few things more nutritious than a loaf cooked in your own kitchen. You'll need a few tools to bake your own bread at home, but don't let the cost, or the extra work, deter you. After a few batches, you'll recoup the upfront cost and you'll never have to buy another loaf of bagged bread again. Here are some easy tips and suggestions on how to easily make your own delicious loaves at home. It may be the next best thing since, well, you know.
Tips on Making Bread on a Dime:

Knead away: Any great loaf of bread starts with a good round of kneading. Place the dough on a clean, floured surface. With floured hands, press down on the dough, push it away from you, and fold it back over itself. Turn the dough and repeat until the dough becomes smooth with a slight shine. Bread dough should be kneaded until it holds an indentation or can be easily stretched without breaking. If this process sounds too intimidating, or time-consuming, you can always use a bread-making machine or a mixer with a dough hook to do the work for you. If you plan to make large batches or hearty whole grain breads, a heavy-duty mixer may be your best option.

Start baking: As with any new endeavor, the best way to learn is through trial and error. The key to a perfect home-baked loaf of bread is in the rise; set the dough in a greased mixing bowl and allow it to rise until it has doubled in size. Punch the air out of the dough. Then, transfer the dough to its baking pan and allow it to rise again. You may need to experiment with baking times and temperatures, but allowing the loaves to cook until they are lightly golden brown and sound hollow when tapped is a good rule of thumb. Now, pick up a few helpful recipe books and get baking!

Make it quick: Yeast breads, while delicious, are definitely more time-consuming to make at home. If you don't have the patience to mix, knead, rise, and bake traditional dough, a quick bread may be a good choice for you. Banana, zucchini, and pumpkin breads are all tasty and nutritious alternatives to white or wheat bread. Experiment with your recipe to make you bread more savory or sweet; the options are endless. If you're not sure which quick bread to try first, start with the banana bread recipe below.
Quick Banana Bread Recipe:

Ingredients:
3 or 4 ripe bananas, mashed
1/3 cup melted butter
1 cup sugar
1 egg, beaten
1 teaspoon vanilla
1 teaspoon baking soda
Pinch of salt
1 1/2 cups all-purpose flour
Preheat oven to 350 degrees F.

Mix butter into the mashed bananas with a wooden spoon in a large mixing bowl. Mix in sugar, egg, and vanilla.

Sprinkle the baking soda and salt over the mixture and mix. Add the flour and mix well.

Pour mixture into a buttered 4x8-inch loaf pan. Bake for 1 hour.

Cool on a rack. Carefully remove loaf from pan, slice, and serve.

Buy Specialty Appliances
Back to Guides Directory