by M.S. Beltran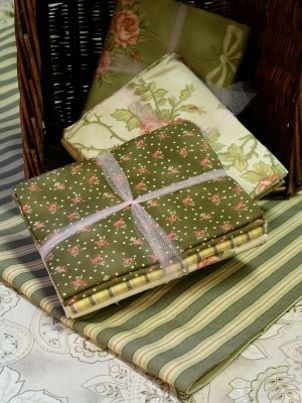 Things You Need:
Basket or container
Cellophane
Embellishments
Fabric
Batting
Quilter's tools
Thread
Pins
Rulers
Buttons
Thimbles
Fabric pencils
Quilting book
Gift baskets always make the perfect gifts for holidays and birthdays. If you know someone who loves sewing and quilting, then you might consider surprising her with a quilter's gift basket on her next birthday. These gifts really show that you care for someone by encouraging her in her hobby. A nice assortment of materials and supplies all wrapped up in a beautiful way will delight and inspire any quilter. If you have a group of quilting friends, surprise them all with lovely gifts tied up with all their favorite supplies.
Making a Gift Basket for Quilters:

You will first need to choose a container for your gift supplies. A pretty basket is a good choice or you can choose from a variety of sewing-specific storage containers to add to the gift. You will also need nice cellophane wrapping and embellishments, such as ribbon or lace.

Fabric makes a great lining for the bottom of your basket. When you put your quilter's gift supplies into your basket or container, you will want them to pop up and be shown off. Lining your gift basket with useful fabric can help to prop up other items and will also be a pleasant surprise for the recipient. Consider bundles of precut strips and squares in coordinating colors. Tie ribbon or lace around the bundles to dress them up. You can also use batting to line your gift basket.

Quilter's tools, supplies and notions are all great additions to a quilter's gift basket. When it comes to selecting the tools and supplies for your quilter's gift basket, you have a wide range of options. You can choose many expensive tools or keep it simple with quilting thread, pins, rulers, buttons, thimbles and fabric pencils. Remember that quilters go through a lot of supplies, so any items that you choose will be useful and appreciated.

Top off your quilter's gift basket with a book or magazine subscription. Most quilters are always looking for new ideas and challenging patterns. Whether your friend is just learning to quilt or is a seasoned sewer and crafter, you can find the perfect quilting book for her. If you don't have a lot of room left in your gift basket or if you have a friend who loves quilting magazines, opt for a subscription to a quilter's magazine instead. Either way, these are gifts that will keep on giving and make great additions to your gift basket.

Buy Sewing and Quilting
Back to Guides Directory