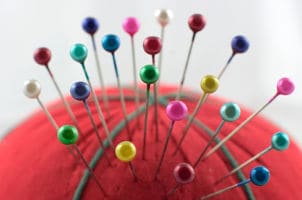 Things You Need:
Lightweight cardboard
Scissors
Ring
Pencil or tailor's chalk
Fabric
Needle
Thread
Stuffing or sand
Craft glue
A pincushion ring is a practical accessory for any sewer or quilter. A pincushion on a ring will help keep your pins and needles right at your fingertips and in a safe place, no matter how busy you get or how involved your sewing and quilting project is. A pincushion ring is also great for working on sewing and crafts in the car or anyplace away from home. Pincushion rings are perfect for sewers and quilters who are less mobile, because they ensure that a pincushion is always nearby and reduce fumbling for pincushions that have rolled out of reach. Use our tips to make a pincushion ring for yourself and see how helpful one can be for sewing and crafts.
Making a Pincushion Ring:

Cut out your pattern and fabric. Draw a circle on lightweight cardboard and cut it out. This is the main pattern for the cushion, so you might cut out a few different sizes to decide how large you want your pincushion ring to be. Lay the pattern on a piece of fabric and trace around it using a pencil or tailor's chalk. Cut out two circles of the same size for the top and bottom parts of the pincushion. Use your ring as a guide when cutting out your pincushion to be sure that it will be the right size. You can use an affordable ring with a broad top or a ring form made specifically for home jewelry crafters for your pincushion ring. You might consider cutting out a piece of fabric in a contrasting color to decorate the top of your pincushion ring.

Sew your pincushion. Sew the two parts of your pincushion ring together. If you have opted to add decorative contrasting fabric to your pincushion top, sew it on first. You have a few options when sewing your pincushion ring. You can sew it inside out for a clean edge or sew it on the outside and then pull the stitches for a gathered look. Be sure to leave an opening to add your stuffing or sand. Once you have added your stuffing or sand, stitch up the hole.

Attach your pincushion to your ring. Once your pincushion is complete, you can attach it to your ring. You can use thread to sew it on with a whipstitch or you can glue it with craft glue. Depending on the style and shape of your ring, you might want to do both to make sure it is securely attached. You are now ready to use your pincushion ring in your sewing and craft projects.

Buy Sewing and Quilting Supplies
Back to Guides Directory