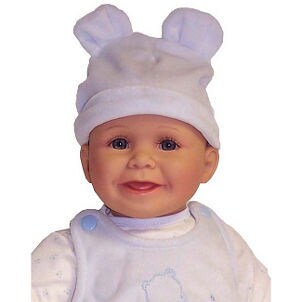 Things You Need:
Sewing machine
Fabric
Thread
Pattern
Knitting needles
Yarn
Glue gun
Cardboard
Lace
Tulle
Glitter
Beads
Creating a doll hat can be a fun way to add style and flair to your doll collection. Doll hats are also adorable gifts for doll-lovers of any age. With just a bit of crafting experience and a sewing machine, you can create a variety of miniature hats for dolls of all sizes. Consider creating doll hats to match other doll clothing that you have sewn for complete doll outfits with style.
Making a Doll Hat:

There are a few different methods that you can use to create doll hats. The method that you choose will depend on your experience level, style preference and the type of doll you are making it for. A wide variety of doll hats can easily be sewn on a sewing machine using any type of fabric. Doll hats can also be knitted by hand for a lovely style that can be paired with doll sweaters and other outerwear. Simple doll hats can also be made by hand, depending on the fashion you are hoping to achieve.

Using a sewing machine is a great way to make a variety of doll hats. If you are looking to make a tiny hat with lots of style, doll hat patterns are a good place to start. Doll hat patterns are available in a wide variety of fashions and can make the process fairly simple. If you have trouble finding a doll hat pattern that you like, you can also use baby hat patterns in some cases. You can even make your own by measuring the doll's head and cutting cardstock or paper to create the pattern you desire. Once you have a basic doll hat pattern that you like, you can alter it depending on sizing and style preferences.

Knitting doll hats is a simple way to make adorable caps for dolls of all kinds. If you have knitting or crocheting experience, making a doll hat with yarn, wool or other knitting thread can be an easy project. Knitting patterns for doll hats are available, but if you are an experienced knitter, making it up as you go along it certainly an option. Simply measure the doll's head and decide what the size, shape and style your doll hat will have. If you are looking for a fun gift idea for a daughter or grandchild, consider making two identical knitted caps, one for the child and one for her doll.

Making a doll hat by hand is a great option for simpler hats. If you are looking to make a doll hat that is very basic and you have some crafting experience, making the hat by hand is a good option. Using a glue gun, cardboard and some fabric, you can easily assemble pretty hats for dolls of any size. For an even simpler doll hat, tie a piece of lace or tulle around your doll's head for a head scarf that will add a lot to a pretty doll outfit.

Trim and embellishments are a great way to give your doll hats a polished look. Once your doll hat is sewn, knitted or assembled, you can add to it to give it the precise style you desire. Lace and other decorative trim can be sewn with a sewing machine or glued onto the hat for a pretty look. Give your doll hats plenty of flair, and make them unique with beads, glitter and other embellishments. Consider allowing children to help decorate the doll hats, especially if the hats will be used to adorn their dolls.

Buy Sewing Machines
Back to Guides Directory