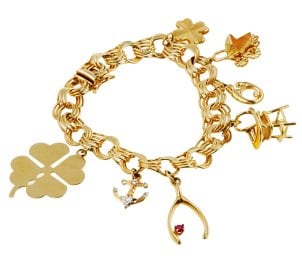 Things You Need:
Link chain
Jump rings
Clasp
Assorted charms
Needle-nose pliers or tweezers
It's easy to make your own jewelry at home with supplies purchased online. When you want a fun activity for a group of friends on a rainy day or a unique gift for someone special, create some charm bracelets. And when you receive a compliment on your own fabulous jewelry, you can respond with a proud assertion that you made it yourself. Once you learn how to make a charm bracelet, you'll love making many more. Magazines and Websites can give you ideas on styles to try; then you can use your own imagination to design your own charming charm bracelet.
Making a Charm Bracelet:

Design your charm bracelet. Before you start shopping for supplies, choose a basic design for your charm bracelet. For example, you can attach gold charms to a gold chain or silver charms to a silver chain, or you can choose a theme based on your favorite hobbies. You can alter the design some as you gather supplies, but having an outline in mind will help you decide which products you need.

Choose your bracelet chain. Most charm bracelets are made from a length of chain. You can buy chains in various weights and lengths and attach a clasp yourself. Of course, a finished bracelet that comes with the clasp already attached is a convenient alternative. Try to pick a chain that will match the kind of charms you like. There are many chain styles available, so be sure to choose one with links that will accommodate dangling charms.

Choose your charms. Now it's time to use your creativity. Ready-made charms for your bracelet are available individually or in matched sets. Charms made of various materials, such as metal, wood, shell, ceramic, bone or glass, can be found to suit any taste. You might choose charms of a certain type, like flowers, hearts, bells and sea shells, or an assortment of charms that represent your individuality, like your birth sign, favorite animal, favorite sports and hobbies. Picture frame charms are especially sentimental. Feel free to mix and match them as you see fit. You can even make your own charms. The eyes of peacock feathers can make striking charms, especially when paired with beads in similar colors. Start your project with about ten beads as this number will be easy to arrange. You can add more charms to the bracelet after you complete the basic design.

Put it together. To make your bracelet, first lay your bracelet chain on a flat surface. Arrange your charms under your bracelet in a way that pleases your eye. You might create a repeating pattern of charms or simply place them randomly. There's no right way to place your charms. Now attach jump rings to your charms, one jump ring for each charm. With your pliers or tweezers, slightly twist the jump ring to open it and slide the jump ring into the loop or ring on the charm. Attach a charm to the bracelet by sliding the open jump ring onto a link. With your pliers or tweezers, carefully pinch the jump ring closed. That's it! Put your bracelet on your wrist and enjoy the gentle jingle of your charms.

Add more charm to your bracelet. Be sure to leave some room on your charm bracelet so you can add new charms as you acquire them. Sterling silver and yellow gold charms make wonderful gifts, and your friends and family members may give you some after they see how much you enjoy your new jewelry. And now that you know how to make a charm bracelet, you can make a new one whenever you want some new jewelry.

Buy Charms
Back to Guides Directory