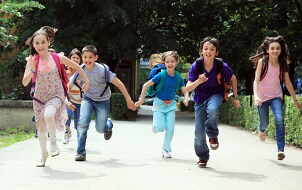 Things You Need:
Keychain
Patches
Embroidery thread
Pins
Buttons
Friendship bracelets
Regardless of grade, all students want their backpacks to look cool and reflect their personality. Whether the bag announces a student's musical tastes, political views or favorite cartoons, it's easy to make a backpack look stylish by adding patches, pins and custom artwork, such as embroidery. Take a look below to learn how to make a bag look cool as you get ready to go back to school.
Make Your School Bag Cool:

Pick the right bag. Select a backpack that can be decorated. Choose a bag in a solid color or one with a pattern that allows for decorations. Bags with multiple pockets, zippers and closures have more space for decorations. Select a washable fabric, such as canvas or a cotton blend.

Add a keychain. Dress up the bag by adding a keychain to the zipper. Attach a key ring with a small toy, stuffed animal or funny saying to the zipper pull on the school bag. This can easily be changed for various holidays or as interests change.

Patch it up. Sew patches onto the school bag. Although more permanent than other decorations, these will make the bag look cool because nobody else will have the same exact bag. Use patches with band logos, names of places you've visited or funny cartoons and sayings.

Embroider. Embroider a pattern, a school mascot or your name onto the backpack or bag. This custom decoration will look cool and be a nice keepsake of artwork. Use colorful thread and a needle to create your own design on any canvas or cotton backpack.

Add pins and buttons. Attach round and square buttons that highlight your interests to the bag. These can reflect sports teams, school pride, music groups or political choices.

Tie handmade friendship bracelets to the zippers. Use friendship bracelets as pulls to open and close the bag. They can also be tied on buckles, loops or other decorative areas of the backpack.

Be prepared for washing. When adding items to a school bag, make sure they are washable. At least a few times during the school year, the bag will need to be laundered. Remove buttons, pins and key rings before putting a backpack in the washing machine.

Buy Backpacks
Back to Guides Directory