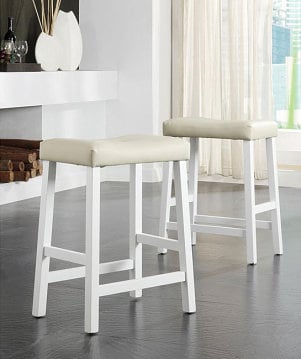 No home bar can survive without some comfortable bar stools. Bar stools come in a variety of styles and sizes to match any decor and bar height. You can find anything from swivel bar stools and wooden bar stools to high-gloss metal bar stools in any color imaginable. After you've purchased the perfect bar chairs for your room, you'll want to ensure they last as long as possible. Maintaining your bar stool set depends on the material and style that you have purchased. Each bar stool should be checked every few months for loose bolts and connections. A loose bolt can cause the stool to collapse. Other than that, kitchen bar stools and counter stools should be cared for depending on material. Here are a few tips to make sure your bar stools last as long as possible.
Maintaining Bar Stools:

Wooden bar stools: If you have a wooden barstool, never use water-based cleaners or just water to clean the surface. Water-based cleaners can cause the grain or finish peel. Always use a cleaner specific to wood, like Pledge or Old English. These will give your barstools shine and continue protecting the finish.

Metal bar stools: If your bar stool is metal, you'll need to do spot checks for rust, especially if they are outdoor bar stools. Use a metal cleaner to maintain the polish and shine, and if you find rust, use a rust-inhibiting spray paint to touch up any damaged areas. If you are worried about structural failure, send it to a professional for repair.

Upholstered bar stools: Upholstered bar stools require a little more effort. If there are spots on the upholstery, try upholstery cleaner. If the stain remains, you might need to send the bar stool out for professional cleaning. If the fabric is vinyl, you can wipe it down with a solution of mild soap and water or use a vinyl cleaner. Make sure to clean all spills promptly to avoid stains on any fabric.

Leather bar stools: Leather bar stools can be maintained like any leather furniture. Wipe them down with a dry cloth and use leather cleaner or saddle soap as necessary. Plastic stools can be wiped off with a cloth and mild soap and water as well.

Buy Bar Stools
Back to Guides Directory