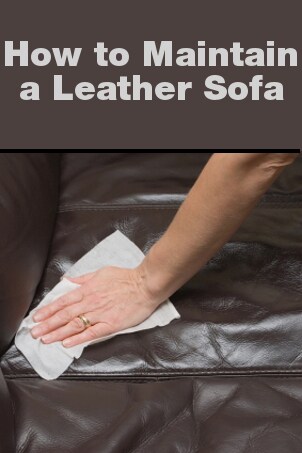 If you are planning to buy a leather sofa, you'll want to make sure you know how to maintain the upholstery. A leather sofa can be one of the most comfortable and stylish pieces of furniture in your home. Whether you are considering a leather sectional sofa, sleeper sofa, leather chairs, or any other piece of leather furniture, you can significantly extend their longevity by giving them proper and consistent care. Here are a few tips to make sure your leather sofa will be a favorite furniture piece for years.
Maintaining a Leather Sofa:

Avoid sunlight. Wherever you decide to place your leather couch, make sure it isn't constantly exposed to natural sunlight. Too much sunlight can cause the leather to age much faster by drying it out. The more dried leather sofas get, the more likely they are to eventually crack and rip. Aside from sunlight, try to keep your leather sofa away from any extreme source of heat, like a space heater.

Never sit on the armrest. No matter how durable leather furniture is, the armrests are built to withstand the weight of an arm, not a body.

Clean with caution. If your leather couch is in need of cleaning, don't use strong detergent, soaps, oil, or all-purpose cleaners. If you need to wipe a spill up, use a damp rag and make sure to dry it afterward. If you need to do some more intense cleaning, use a cleaner specifically made for cleaning leather. Saddle cleaner is a popular and affordable cleaner.

Don't let it dry out. If you notice the upholstery on your leather sofa getting a little stiff, you can use petroleum jelly or olive oil to soften the leather. Place just a small amount in a dab over the needed area. Make sure to wipe up any extra, so it doesn't sink into the leather where it isn't needed.

Be consistent. Make sure you keep your leather sofas clean and protected from dust, crumbs, and other messes. If you keep the sofa constantly maintained, you won't have to resort to extreme measures when it becomes a real problem. Just making sure your leather sofa is vacuumed and wiped down every month will prevent a major cleaning catastrophe.
What Do You Want to Do Next?

Shop Leather Sofas & Loveseats
Shop Leather Sectionals
Shop All Leather Living Room Furniture
See All Guides
Read More Furniture Guides
Learn More about Living Room Furniture