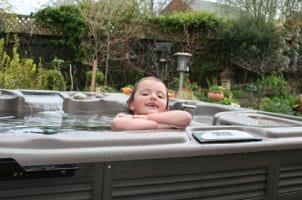 Things You Need:
Water-testing kit
Pool/spa chemicals
Bristle brushes
Leather cleaner
A clean cloth
Small pump
Hot tubs are a lot of fun, but if not cared for properly, they can also be a potential breeding ground for bacteria that can cause discomfort or even illness. By maintaining your hot tub properly, you will able to avoid these unwanted possibilities. Fortunately, the maintenance procedures are not too difficult to follow, and following them will help to keep your hot tub fun and safe.
Maintaining a Hot Tub:

Determine how often your spa or hot tub should be cleaned. For instance, if your hot tub is an outdoor tub, you'll need to do weekly cleanings. For an indoor hot tub, it is not crucial to clean as often. For hot tubs and spas that are frequently used, whether for sports therapy or pleasure, a weekly cleaning is best.

Take a soft bristle brush and start brushing inside the hot tub along the sides. The debris on the bottom will be taken care of by the pump to keep the water clean.

Check the pH level after you have finished cleaning the spa and refilled it with water. Use your water-testing kit to determine the pH level; this will let you know which chemicals you'll need to add to balance the pH and chlorine levels. Too much or too little of one substance or another can increase the possibility of irritation or illness, so test your spa or hot tub weekly or when you suspect the levels may be off.

Not all of the cleaning takes place weekly. During the summer, you should take the leather cover off the hot tub and clean it with some leather cleaner and a cloth once a month. Even this surface can potentially collect pathogens, so it is important to include it in your cleaning regimen. Clean the cover less frequently for the rest of the year -- every couple of months or so -- if you live in a region that has cold winters.

Yearly maintenance is needed, too. You're going to need to unbolt the motor and give it some oil. Turn to the user's manual for specific instructions about which pieces need oil in your hot tub's particular motor because each model is different. Lack of oil can cause your motor to break down, so be sure to mark this on your calendar, so you don't forget.
What Do You Want to Do Next?

Start Shopping for Hot Tubs & Spas
Shop for Hot Tubs & Spa Accessories
See All Guides
Read More Sports & Fitness Guides
Learn More about Hot Tubs