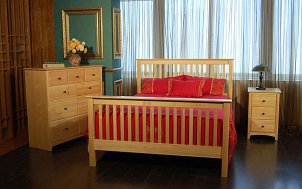 If your bedroom has a dark tone or does not receive optimal natural light, you can use pine bedroom furniture to give it a lighter and brighter look. Pine bedroom furniture has a distinct advantage over darker and glossier woods because its lighter look creates a cheerful backdrop in a bedroom, whether you aim for a style that's country, Mexican rustic, cottage style, Asian fusion or shabby chic. Look below to learn how to lighten a bedroom with pine furniture.
Brighten Your Bedroom:

Clear it out. Clear your bedroom of clutter and excess items. Pay particular attention to trouble spots such as the tops of shelves and corners. Too much clutter, be it papers and bills or decorative accessories, can weigh down a bedroom, making it look darker.

Paint your bedroom walls. The ideal way to lighten and brighten a bedroom is to paint the walls. Consider pale shades that match well with pine furniture. Go for fashionable eggshell, off-white with a yellow undertone or rose-based grey to add warmth around pine accents. Faded earth tones or pale green against pine wood create a tranquil tone, while sunny yellow offers a cheerful yet neutral backdrop. While plain white can look too flat with pine furniture, antique white, cream or blue-based white provide a dash of color that sets your walls apart.

Pick some pine furniture. Invest in some pine furniture to use as focal points. In a small or dark bedroom, low, modular pieces with less ornamentation keep the look clean and simple. A platform-style bed frame in pine might feature drawers or baskets underneath for hidden storage. A narrow pine picture ledge that extends the length of a wall can prop candles, small works of art or accessories. For a rustic look, repurpose a pine door by laying it on its side and using it as a headboard.

Consider pine finishes. Unfinished pine has a rough look that can work in some decors, but you can add a translucent glossy finish that will impart a more sophisticated look. Painting your pine furniture can brighten decor.

Accessorize the look. Keep your window treatments minimal to maximize the amount of natural light that enters. If your pine furniture and accessories have a lower profile, you have a greater chance of letting the natural light travel throughout the room. Simple wicker baskets and earthenware pottery can serve as storage containers and pick up the color of pine furniture while adding texture. Linens in antique white or pale green can keep the look fresh, while bolder fuchsia or paisley will add punch. Folk art and primitive art can accent pine furniture well, giving the bedroom homey style.

Buy Bedroom Furniture
Back to Guides Directory