by C.D. Crowder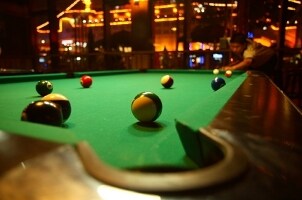 Things You Need:
Wood shims
Two small- to medium-size levels
Screwdriver
If your pool table isn't leveled correctly, getting the perfect shot can be impossible. If you notice balls rolling too far or rolling in inappropriate directions, it's time to level your pool table. With a few simple tools, you can do so yourself. Several different ways to level a billiard table exist, depending on the type of billiard table you have.
Leveling a Pool Table:

Determine the type of pool table you have. You may need to consult your pool table's instructions or owner's guide. If your pool table includes metal plates, you can use the plates to adjust the level of the table. The plates are located underneath the table itself, under the legs or in the bag with the owner's manual. Other pool tables have adjustable legs that extend for leveling purposes. If your pool table has neither of these features, you need wood shims. Tables with metal plates are the most common type.

Check the level. Place a level in the middle of the table. After checking the center, place levels on opposite sides of the table. Repeat on the other two sides.

Begin leveling. Perform one of the following to begin leveling: Add a metal plate to your pool leg or legs using the screws provided with the plates; remove the pins or screws holding the adjustable part of the leg in place and move the leg up or down; or lift the low end of the pool table and slide the slimmest part of the shim under the pool table leg or legs. Replace the screws or pins in the adjustable legs after adjusting.

Recheck the level. Use your levels in the same way as in Step 2. If your pool table isn't level, repeat the leveling process until it reaches level.
Billiard Table Tips:

Depending on the type of pool table you have, you may need a few friends to help left the edges of the table. This is especially important if you need to place shims under the legs.

Use multiple shims under a single leg if more adjustment is needed.

Buy Billiard Tables
Back to Guides Directory