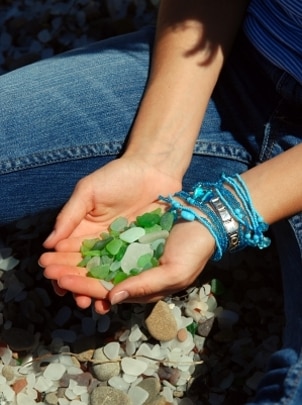 Crystal bracelets are incredibly trendy. They are available in range of styles, which tempt you with their vibrant colors and unique patterns. Crystal bracelets offer the look of sparkly gemstones without the high price tag, making them very valued in fashion jewelry. If you're shopping for crystal bracelets, you might be hesitant to try one of the new styles. It's easy to wear fashionable bracelets when you know how to layer them with the existing favorites in your jewelry collection. Layering crystal bracelets is fun and easy; create a new jewelry look with these tips.
Layering Crystal Bracelets:

Choose the right hues: You carefully consider colors when layering clothing, so be sure to carefully select hues when layering accessories. Choose matching colors or contrasting hues depending on your mood and your outfit. If you are wearing a straightforward ensemble comprised of black, grey and white, then wild jewelry combinations can really enhance the look. Combine red crystal bracelets with yellow beaded bracelets and purple bangles to add rainbows to an outfit.

Borrow a style: Some of the best layered jewelry looks borrow styles from both feminine and masculine trends. Many crystal bracelets are very feminine, featuring pale pastels and whimsical designs. Wear these bracelets with leather cuffs and titanium chain bracelets to create an interesting mix of textures.

Create a pattern: Rather than relying on jewelry designers to create eye-catching patterns, play with crystal bracelets to make your own. Layer thin bracelets in alternating hues or bookend a thick crystal cuff with several thin rubber bracelets. Patterned bracelets add a lot to your own designer layering. Striped crystal bracelets look great with retro polka dot bangles and heavy link chain bracelets.

Keep trying: You may not like the first look you create when layering crystal bracelets, but there is no reason why you can't start over or swap out one bracelet for another. Layering jewelry is not an exact science and it may not always turn out. On the other hand, the best part about layering jewelry is that it gives you the chance to express yourself. If your stack of bracelets doesn't showcase your personality or mood, then take them off and try again.

Buy Crystal Bracelets
Back to Guides Directory