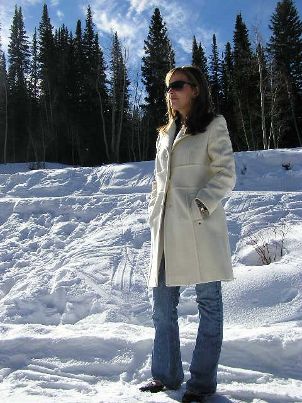 Things You Need:
Lint roller or brush
Clothes shaver
Garment bags
Dry cleaning kit
Acid-free paper
Cedar hangers or cedar sachets
If you live in a cold climate, you need to prepare for the chilly season. There are many different types of winter coats, and you will want to be sure that they are properly taken care of. Many people like to replace their winter coats every year; however, if you have a classic style, you may want to wear your coat for several years. Whether you have a quilted down-filled coat, a parka or a wool coat, there are certain steps to follow when taking care of men's coats and women's coats to keep them looking like new.
Keeping Your Winter Coat Clean:

If your winter coat is a wool blend or a wool-like fabric, start with a lint roller or brush. Wool coats pick up particles that these items can easily remove, such as human or pet hair and lint. Just roll the lint roller over the fabric or brush it with the lint brush. If you don't have either one of these tools, create a loop with some tape, keeping the sticky side out. Make the loop large enough to wrap around your hand loosely. You can then pick up particles and hair on women's coats or men's coats by rolling the tape along the fabric with your hand.

Remove loose threads on your winter coat. Cutting these excess threads will help to minimize the lint that your coat picks up as well. Use the clothes shaver, which trims fuzz and lint from fabric, to remove loose threads and those hard-to-reach hair and lint particles from your pea coat or cashmere coat, especially when it has begun pilling.

Cut the costs of dry-cleaning, which many winter coats require. To avoid those high-priced dry cleaning bills, you can purchase a dry-cleaning kit. These are very easy and convenient. Using the kit takes less time than washing a load of clothes. First, spot treat any visible stains on the coat with the included spot-treating solution. Next, place your coat and one of the towelettes in one of the bags included in the kit. Put it in the dryer and set the dryer to medium or high heat for about 30 minutes. Promptly remove the coat and hang it or lay it flat to dry, as it will be a little moist from the solution on the towelette. Long winter coats or rain coats may take a bit longer to dry.

Use cedar hangers when hanging your winter jacket. Cedar keeps the moths away without the smell of mothballs. If you do not have cedar hangers, you can use cedar sachets. Line your closet with them or simply place one on the hanger with your coat. When storing your winter clothing for the season, you may also want to consider getting a garment bag to help keep lint, hair, dust and other particles from collecting on it. These come in a variety of sizes and are easy to find. Stuff coat sleeves with acid-free paper to help prevent permanent creases from forming during the off-season.

Buy Clothing
Back to Guides Directory