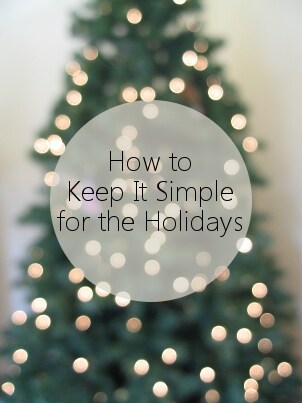 Between hosting parties, entertaining family, and buying presents for the kids, you have extra stress during the holiday season. The most valuable tip to keep things under control this holiday season is to keep it simple. This hectic time of the year can be made merrier with a bit of planning. Avoid the chaos with these tips for simplifying the season.
Tips for a Low-Stress Holiday:

Get a head start: Start your holiday shopping early or shop online to avoid crowds and last-minute rushes to the store. Get on top of your holiday parties early, too, by ironing linens and polishing silver ahead of time. You can even freeze some quick and easy appetizers and desserts to cut down on your cooking time the day of.

Set your budget: It's much less stressful to plan the holidays when you know ahead of time how much you have to spend on gifts, holiday decorations and parties. Setting a budget makes it easier to shop, too. You can even set a budget for each child's gifts for the year.

Organize your calendar: Get on top of all your holiday parties by writing them on the calendar. You'll know when each party is and you can decide ahead of time which parties you'll be attending, especially if you're double-scheduled. Having too many social gatherings to attend can add unneeded stress to your holiday season.

Simplify your decor: Try a small Christmas tree or garlands and a wreath instead of a large tree to make indoor decorating easier and less time-consuming. Instead of elaborate outdoor decorations, add a colorful wreath or a big red bow to the door and hang a pretty ornament in each window.

Delegate tasks: Get your kids involved in decorating and cleaning by assigning them specific tasks. Maybe one can help decorate the tree while another hangs the stockings and pulls out the Christmas linens. If you're hosting a party, you can even ask your guests to bring a side dish or dessert to add to the feast.

Take time for yourself: It's easy to get caught up in too many tasks during the holidays, so remember to make time to relax a little. Whether it's taking a long hot bath or simply having a cup of coffee on the porch, quiet time can help you relieve stress and manage your time better when you get back to your schedule.

Give to charity: Rather than purchasing gifts, make donations in your friends and neighbors' names. You'll be doing something good and saving time. You can even get your kids involved and have them help you pick out toys online to donate to charity.
What Do You Want to Do Next?

Shop Christmas Decor
Buy Gift Cards
Find the Perfect Present in Our Gift Center
See All Guides
Read More Holiday Guides
Learn More about Parties & Decorating