by C.M. Mackenzie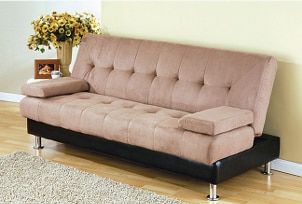 Sofas are usually rather heavy, and their feet can leave deep scratches in vinyl, laminate or wood floors when the sofa or loveseat is moved. Even if you don't intend to move the sofa, all it takes to leave a scratch in your floor is for someone to accidentally bump against the sofa. Fortunately, there is a simple solution that does not require much time, expertise or money. With one product and 15 minutes or so of your time, you can protect your floors from furniture wear and tear.
Preventing Scratches:

Get some pads. Choose felt furniture pads that have an adhesive backing and match the size and shape of the sofa's feet. You may need to measure the feet before you purchase the felt pads; however, most furniture legs and feet are standard sizes and the felt pads are made to fit these.

Flip the sofa. Gently turn the sofa onto its side so that the feet are exposed. Get a friend to help you with this if possible; even sofas that aren't very heavy are bulky and awkward to handle.

Clean the legs. Wipe off the bottom of the sofa's feet with a damp cloth, followed by a dry cloth. The adhesive on the felt furniture pads will stick better to a clean surface.

Double check the size. Before removing the paper from the adhesive backing, place one felt pad against a sofa foot to ensure that the size is suitable. If the furniture pad is too big, cut it to size with a pair of scissors.

Apply the pads. Remove the paper from the adhesive and carefully press the felt pad against the bottom of the foot of the sofa. Repeat for all the sofa legs and then gently pull or push the sofa back into its upright position. Now you should be able to slide the sofa without damaging your floor.
Tips:

Felt furniture pads come in different thicknesses; choose heavy-duty thickness for sofas as these furniture pieces are heavier than chairs.

Be cautious when turning the sofa over. Bend your knees when lifting and make sure you have a secure grip, or you risk a back injury.

Buy Sofas and Loveseats
Back to Guides Directory