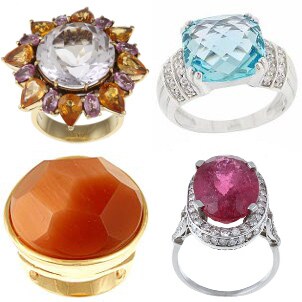 Cocktail rings are enjoying a surge in popularity, but they have actually been fashionable for several decades. This iconic ring style is sure to be a fashion staple for as long as gemstones remain popular. Now is the time to invest in a cocktail ring or two; the right gemstone ring is well worth its cost if you wear it often and with a variety of outfits. Look for the following features to choose an amazing ring for your jewelry collection.
Investment-worthy Cocktail Rings:

Select a high-quality metal. Your hands are often wet and doused in beauty products, so low-quality metal rings can lose their beauty and sleek texture quite easily. An investment cocktail ring should feature a durable metal band and setting. Two of the very best metals for rings are platinum and gold. Both are durable enough to last a lifetime and require very little maintenance. Sterling silver is also a good choice for cocktail rings. Sterling silver does tarnish over time and needs to be regularly cleaned with silver polish. Anti-tarnish jewelry boxes can slow the effects of oxidation, allowing you to go longer between polishing silver rings.

Choose a gemstone that you adore. You'll wear a gemstone that you love a lot more often than a stone that you feel neutral about. A birthstone cocktail ring is a very fun choice. Use this birthstone guide to choose your birth month's jewel. Shopping by color is another great way to choose a gemstone that will enhance your wardrobe. Some of the most popular blue gemstones are aquamarines, sapphires and topaz. Fabulous options in red gems include rubies, garnets and coral.

Compare natural gemstones and created gems. Natural gemstones are obviously more expensive, but created gems can give you the same look for less. Many created gems are just as durable as natural stones, but some people do prefer to know that the gemstones in their cocktail rings are completely natural.

Be aware of enhancements. Gemstones are often enhanced with heat treatments, fillings and films. These treatments can intensify the colors of a stone or make fractures invisible to the naked eye. You will save money on enhanced gemstones over natural gems, but be sure to fully understand the treatments before buying.

Buy Gemstone Rings
Back to Guides Directory